Are you in search of a text editor with a small footprint? Try Nebulous Notes [iPhone]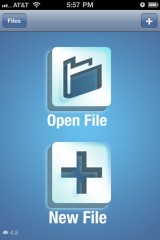 [1]Nebulous Notes is a user-friendly text editor for power users. Whether you are a writer, take notes in your job or for school, or a computer programmer, this app can assist you in your everyday life. Nebulous Notes provides a very simple interface for jotting down any type of text, or opening any type of plain-text file. The app also has full cloud backup capability with your Dropbox account. You even have the option to aut0-sync with Dropbox as you type, which is very useful to the power user who doesn't want to risk losing material. Nebulous Notes also goes the extra mile in creating specific themes for the type of user (i.e. writer, coder, etc.) you might be.
Being an Evernote user, I wanted to see what really separated this app from it's popular competitor. I was quite impressed by some of the unique features it provides, particularly the line of editable scrolling macros added to the top of the native iOS keyboard. They are excellent for power users who want all of their favorite keystrokes at the tip of their fingers rather than constantly clicking through menus to achieve them. I also was pleasantly surprised to see a preview mode for markdown and HTML files, which worked quite well when opening a file from my Dropbox. It is worth noting that Nebulous Notes often goes on sale, so if you are interested and don't want to pay the somewhat steep price, consider keeping an eye on the price.
Price: $4.99
Requires: iPhone/iPod Touch/iPad; 5.1 and up
Download size: 5.6 MB