Want to get updates when a new app that fits your needs becomes available? Try AppAlerts [iPhone]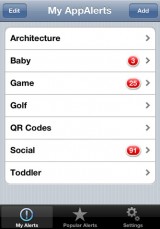 [1]AppAlerts – Instant alerts for new app releases! sends you instant push notifications when a new app becomes available on the App Store that matches a keyword of your choice. When you enter the app, there are 3 tabs at the bottom, My Alerts, Popular Alerts, and Settings. Popular Alerts houses the most popular keyword searches in this app, according the developer. If you click on the first keyword (currently Business), you will be brought to a list of apps on the App Store with that keyword associated with it, sorted by original release date. This basically shows you an example of what your personal AppAlert list will look like when you enter a keyword. That being said, if you are interested in the keyword Business, then you can hit the plus sign to directly add it to your list.
Your My Alerts tab starts out empty, so you have to click the plus (+) sign in the upper right hand corner and add the keyword of your choice. The keyword will be added and all result entries will be considered unread until you click on the keyword. AppAlerts will then show you a result list for your keyword and all entries will then be marked as read. To get alerts for all future additions to the App Store with this keyword, go to the Settings tab and choose Show on Screen (for Push notifications) and/or Send via email. AppAlerts gives the choice of immediately getting any notification or only getting them once per day (as a group if there are multiple alerts).
Price: Free

Requires: iPhone/iPod Touch/iPad; iOS 4.0 and up

Download size: 2.9 MB
AppAlerts – Instant alerts for new app releases! on iTunes [3]