[1]WinUtilities is a popular name, especially among dotTechies, not only because it is continually given out on GOTD but also because it is a featured filled an reliable software. Although there was a short attempt [2] by the developer of WinUtilities to make a freeware version of WinUtilities available last year, the attempt died out [3] sooner rather than later, so WinUtilities has been a largly commercial product people have to pay for. Well this is true no longer.
Recently the developer of WinUtilities has transitioned WinUtilities into two version: WinUtilities Professional and WinUtilities Free. While of course the Professional version is the better one, the Free version itself has quiet a few handy features making it worth mentioning.
These are the major differences, as defined by the developer, between WinUtilities Professional and WinUtilities Free: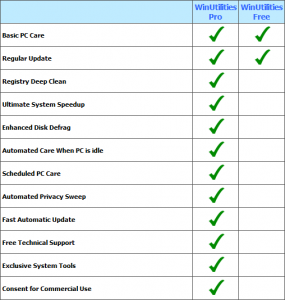 [4]
So what exactly consists of the "Basic PC Care" that WinUtilities Free has? All of this:
[5]
That is a fairly impressive feature list for a freeware software especially considering WinUtilities Free is bound to come with the reliability of WinUtilities we have all come to know and love. So yes having the Professional version of WinUtilities would be nice, but the Free version of WinUtilities itself is a winner.
You can get WinUtilities Free from the following links:
Version reviewed: v9.37
Supported OS: Windows 7, 2000, XP, Vista, 2003 Server.  32/64bit versions.
Download size: 6.3 MB
Update: Please note WinUtilities Free now comes bundled with Ask Toolbar. Be sure to not install it (if you don't want it)!

WinUtilities Free homepage [6] [download page [7]]