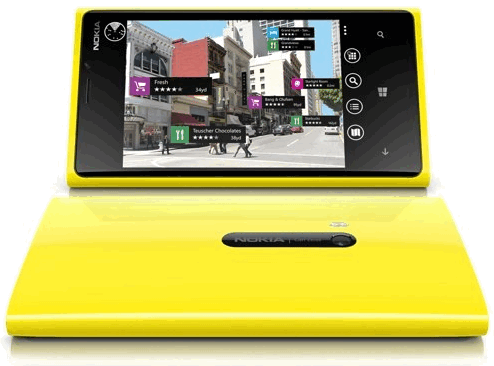 [1]
Windows Phone [2], while in better shape than before Nokia joined the fray last year [3], is not even close to the dominance of Android [4] and iOS [5]. Microsoft [6], and Nokia, are hoping to change that with Windows Phone 8, the latest iteration of the Windows Phone platform. You, of course, need a flagship device to help you gain marketshare, right? That is why today Nokia [7] has unveiled the Nokia Lumia 920, the flagship Nokia device for Windows Phone 8.
Keeping true to the design principles of the Lumia series, the Lumia 920 comes in the rectangular, modern, and colorful design we have come to be familiar with. While the physical design is undoubtedly sleek, the internals are impressive also. Powering the Lumia 920 is a 1.6GHz dual-core Snapdragon S4 processor, with accompanying GPU, combined with 1GB RAM running on Windows Phone 8. The Lumia 920 sports a curved 1280×768 4.5 inch PureMotion HD+ IPS LCD display (which claims to be 25% brighter than the "next best" display), 32GB of internal storage (no microSD), 8.7 MP "PureView" back camera with Carl Zeiss Tessar lens (with flash), 2 MP front camera, HSPA+ or LTE, 802.11 a/b/g/n, NFC, Bluetooth 3.1, 2,000mAh battery, wireless charging (yes, Lumia 920 comes with built-in support for wireless charging — no need to purchase an extra $50-100 kit), and other goodies (such as accelerometer, GPS, etc.) that come standard with high-end smartphones. To top it all off, the Lumia 920 will come in yellow, red, black, white, and gray colors.
Below is a promo video the Lumia 920:
While some Android fans may scoff at dual-core processors in the day and age when quad-core is the norm of top-of-the-line Android, it should be noted that the Snapdragon S4 is an excellent processor and is considered by some to perform better than the Tegra 3, a quad-core. Plus, who really cares how many cores the processor has if the device is lagless, right?
Overall, the Nokia Lumia 920 looks like a kick-ass device. However, I strongly feel the success of the Lumia 920 will depend on how many carriers Nokia can talk into carrying it — especially in the United States. In that regard, it should be noted pricing and availability have not been revealed except that the Lumia 920 will be available in "select markets" later this year.
[via Engadget [8]]