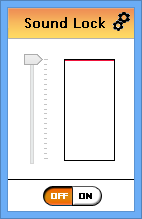 [1]You're watching a movie on your laptop. It's 3am, so of course you have your headphones in. Suddenly, you realize it's Transformers, and you just got to the explosion scene! If you didn't have Sound Lock installed, your ears would probably be dead by now. Luckily, Sound Lock automatically detected the sound going up too high and capped the volume.
Sound Lock offers one thing: the ability to cap your loudness. Unlike Windows' standard volume controls, which simply scale the volume of audio, Sound Lock lets the volume get loud up to a certain point, and then stop. It has its advantages in situations where you need the volume to be high–such as a character whispering something in a movie–but you don't want to turn the volume up out of fear of explosion scenes.
Overall, Sound Lock is a very handy program. It's especially handy for those that like to watch movies, but hate the extremely variable volume they come in. It's a free download for all Windows users.
Price: Free!
Version discovered: v1.3.1
Supported OS: Windows
Download size: 552KB
VirusTotal malware scan results: 0/42 [2]
Portability: Requires installation
[via Freeware Genius [4]]