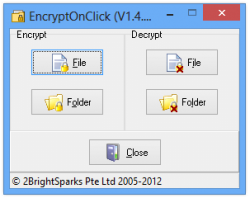 [1]If you're familiar with encryption programs, you're probably also familiar how much of a pain it can be to have special software on every computer you want to access encrypted files on. EncryptOnClick is different: while it requires installation, its encrypted files can be easily decrypted with programs like 7-zip.
EncryptOnClick has five main buttons. You can encrypt or decrypt files or folders, and close the program. Choosing to encrypt requires you to enter a password for encryption, and when you're done choosing, it'll spit out EOC files. This are actually standard passworded, encrypted archive files, readable by programs like 7-zip. This means that, if at any time in the future, you need the files back but don't want to reinstall EncryptOnClick, it's a simple procedure to remove the data.
There's only one minor downside to EncryptOnClick's format of choice. When you open it in 7-zip, it gives the filenames clear as day, and there's no getting around it. This is easily circumvented by just renaming the file before encrypting, and is just something you need to keep in mind.
EncryptOnClick is one of those programs that's absolutely stunning. It's simple to use, operates with actual industry standards rather than some wacky offshoot the developer decided to create, and is best of all secure. It uses AES-256 encryption, and is overall an awesome program.
Price: Free!
Version Discovered: v1.4.1.2
Supported OS: Windows unknown
Download size: 1.5MB
VirusTotal malware scan results: 0/42 [2]
Portability: Requires installation
EncryptOnClick homepage [3] [To download EncryptOnClick, visit the Download Page [4] and scroll down until you find EncryptOnClick.]
[via AddictiveTips [5]]