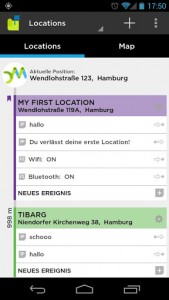 Droid Manager is an application that aims to make having multiple devices significantly easier by giving you a central location to manage them all. This app is great for those who have multiple devices that they want to keep updated. It is also great for those who like having the same apps installed across multiple devices and hate installing and uninstalling each application twice on each device.
What is it and what does it do
Main Functionality
This application is simply designed to provide an online portal to access and control information on your device remotely from any computer. This ability can be incredibly convenient for most tech junkies as they most likely have at least a phone and a tablet that they want to keep up with.
Pros
Mobile device management
Location-based organizer
Micro-network coordinator
Desktop browser plugins
App security tool
Facebook integration
Wireless multimedia center
Cons
Lacks small device support
Cannot be turned off or disabled
Discussion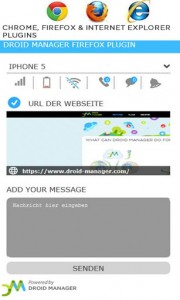 We live in a world where is is entirely common for people to have multiple devices that they use on a regular basis. We are slowly transitioning into an ecosystem where people have both a phone and a tablet and in some cases, multiple phones or tablets. This has created a new issue in that most people do not have the time to independently manage both devices in terms of application and files. This is where apps like AirDroid and Droid Manager come in. While AirDroid does have similar functionality, it fails to support multiple devices as seamlessly as Droid Manager. Being able to control the applications and files, as well as transfer them between devices makes having two separate devices significantly easier to maintain and manage seamlessly.
In Droid Manager, there are a variety of features that will aid you in managing multiple devices with ease. It offers a location-based organizer which will allow you to set notes for specific locations. Then when you arrive at that location, you will be reminded of everything you need to do at that place. This process will also work for certain settings like Wifi and Bluetooth. It also boasts a micro-network coordinator which will allow you to view each device's location on a map. You can then send directions, links, and videos to the device and have them show up via push notifications. You will be able to keep up with the status of your device, such as text messages and battery status, easily from your computer because it has browser extensions for Chrome, Firefox, and Internet Explorer.
You will also get an application security tool that helps you protect your applications and consequently, your personal data. This tool lets you password protect and block any application that you have installed while also giving you detailed information on which apps use certain permissions. You can then share these results with your friends and family. A rather unique feature is that you get full Facebook integration. This means you can access any Droid Manager function directly from your Facebook account through an install-able application. To top everything off, you will get a wireless media center that will allow you play or view any media file that is stored on your device remotely from your computer.
Conclusion and download link
When all is said and done this application is absolutely amazing. The only major downfall is its lack of support for several popular devices. The Nexus 7 is perhaps the biggest device that isn't supported, but unfortunately, the list continues on. If you are lucky enough to have several of your devices supported, then you can experience what is perhaps the most impressive application that is capable of linking multiple devices. Once this app is available for all Android devices, then it will undoubtedly be one of the most useful applications out there.
Price: Free
Version reviewed: 1.05
Requires: Android 2.3 and up
Download size: 5mb
Related Posts