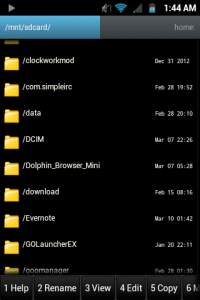 If you have an Android device, you definitely have internal storage and you may have a micro SD card in your phone or tablet. You've probably downloaded files or have placed files onto your internal storage or micro SD card. To view, access, modify, etc. these files, you need a file manager. dotTech has a review on best free file manager for Android from where you can grab an excellent free file manager. However, if you have yet to find your favorite file manager and the file managing apps you found in Play Store are childish looking and riddled with ads, then you need to check out Ghost Commander File Manager.
What is it and what does it do
Main Functionality
As the name indicates, Ghost Commander File Manager is a file manager app for Android.
Pros
Dual panel mode
Favorite folder locations
Calculation of file sizes
File search
Zip Archive support
Color customization
Audio/video streaming support
Image thumbnails
Multiple file selection support
Samba plugin support
FTP support
SFTP support
Root explorer (aka provides access to system files and folders if you have a rooted device)
Open source
No ads
Cons
No compiled settings list — file manager actions are endlessly listed on the bottom pane of the file manager
Takes over the search button function part of your phone
Forever locked into dual panel mode while in landscape — no way to use just one panel.
Discussion
File management on Android is a must. If you want to get anything done, there isn't really a built in feature that Google packs into Android that can help you. If you do anything intensive with your device, or use it as your main computing device, you're going to want a good file manager. Unfortunately, most of these file managers look like a children's toy, are filled with ads, and the interface is confusing and misdirected. Ghost Commander File Manager is not one of those file managers.
I'm a heavy Android user. My device is rooted and I tend to swap files and ROMs around a lot. I also tend to side-load APK files a lot. So, I need a good file manager. The Google Play store is filled to the brim with mediocre file managers. Every single time I find a file manager I think about how badly made it is in comparison to Ghost Commander. There's really no competition here. I had to think really hard about the negatives with Ghost Commander because they are honestly not too many things I don't like about it. It's almost nearly perfect. It's a bonus that it's completely free and there are no intrusive advertisements. That's almost unheard of in Android.
I'm not totally against advertisements in apps, but I'd gladly pay for your app instead of getting it for free with really annoying advertisements. Advertisements that clog the user interface. I think that's why I really enjoyed Ghost Commander. It does what it says, it doesn't devour your storage space, it's neat clean, and customizable. All the things you'd want in a great file manager.
Every single time I see someone not using Ghost Commander on their Android device it's because they haven't heard of it yet. As soon as I show that person how great Ghost Commander is, 9 times out of 10 they love it. Ghost Commander is very handy, and, one feature I love, is that I am even able to access my media server (using the SMB Plugin) to transfer some media files to my Android device. I am in love with this file manager. This is not hyperbole.
CONCLUSION AND DOWNLOAD LINK
I highly recommend this app to everyone. If you have an Android device and you do not have Ghost Commander File Manager installed, you're missing out on one of the best applications on the Android platform. You'll never find a better file manager for Android, and I stand by that. I did have some minor issues with it (no app is perfect) but I honestly can't think of anything substantial that would make me not want to use it. I highly recommend you install this application and try it immediately.
Version reviewed: 1.43.1
Requires: Android 1.6 and up
Download size: 677KB
Ghost Commander File Manager on Play Store
Related Posts