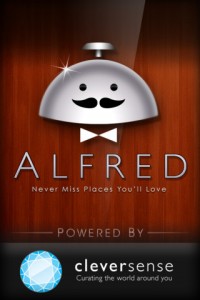 My all-time favorite comic book as a kid was Batman. I wanted the cool car, the sweet gadgets, the big mansion, and of course, a butler of my very own. As an adult, I definitely have the sweet gadgets nailed down, but I have yet to score a butler as cool as Alfred Pennyworth. If you've always wanted to have an Alfred of your own, now you finally can. Alfred is an iOS app that features an adorable robot "butler" as the mascot.
What is it and what does it do
Main Functionality
Not to be confused with the Mac OS X productivity application of the same name, the Alfred app for iOS devices is like a personal butler/robot in your pocket. But unlike a real butler, Alfred is only really an expert in one field: food and dining.
Described by the developers as "Pandora for the real world," Alfred takes your preferences for restaurants in your area, and recommends other places you should check out.
Pros
Offers recommendations for dinner, lunch, nightlife, coffee, brunch… and even nightclubs!
Great for traveling, or for exploring the restaurant scene in your own home city
Cons
Currently only works in the US, but the developers plan to have Alfred go international in the future
Doesn't allow filter for special diets, such as Muslim Halal or Jewish Kosher
Design is still a bit rough around the edges
Restaurant listings are out of date: I had problem finding restaurants that have been open for 4 months, and also encountered restaurant listings for places that shut down years ago
Restaurant hours are sometimes wrong: trust me, my local Uno's doesn't open at 11 pm
Restaurant food images are misleading: the images for my local Pizza Huts were beautiful plates of food that are clearly stock images, not real Pizza Hut dishes. Same thing with some independent restaurants as well.
You need to sign in with Google in order to sync your Alfred recommendations between devices
Hasn't been updated in almost an year
Discussion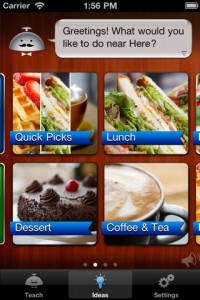 One thing I really wish that Alfred was better at doing is organizing my favorite restaurants by location. During the week, chances are I want to stay within 15 miles of home if I'm grabbing dinner or lunch. But on the weekends or for a special occasion, I am willing to venture further afield: to Boston, for example, or to the excellent restaurants in Portland.
Another improvement I'd like to see is browsing on the map, rather than searching for restaurants by name. When I tried to do this on Alfred, nothing really happened. Pop-up alerts can't be dismissed until they run down on their own, which is annoying because the alerts block buttons within the app.
However, one thing Alfred does get right are all of the questions asked to users. They are very insightful questions that will help you better understand your own tastebuds and eating habits. You can spend as much or as little time as you like "teaching" Alfred what you like to eat and where you like to eat it.
Conclusion and download link
Alfred is a really handy app, but there is definitely still room for improvement. For foodies or travelers, Alfred is a useful app that can help you wade through piles of restaurant listings and visit the place you'll like best.
Price: Free
Version reviewed: 0.6.10.6890
Requires iPhone/iPad/iPod Touch, iOS version 4.0 or later
Download size: 21.4 MB
Related Posts