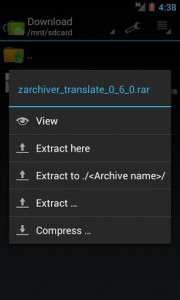 Yesterday I reviewed PowerGrasp. It's alright for basic file extraction but If what you're looking for is an extremely comprehensive file archive manager for Android, then ZArchiver is the app for you. ZArchiver can extract and create almost any file archive type imaginable.
WHAT IS IT AND WHAT DOES IT DO
Main Functionality
ZArchiver is an archive file extraction and creation app. The app can decompress and compress several types of archive formats. ZArchiver also supports password protected archives.
Pros
Can read/extract the contents of 7Z, ZIP, RAR, BZIP2, GZIP, XZ, ISO, TAR, ARJ, CAB, LZH, IHA, LZMA, XAR, TGZ, TBZ, Z, DEB, RPM, ZIPX, and MTZ
Can create archives of 7Z, ZIP, BZIP2 , GZIP, XZ, and TAR
Password protected/encrypted archives are supported
Comprehensive built-in file manager
Full editing of archives is supported
Can extract multipart archives (7Z and RAR only)
Partial decompression of archives is possible
Can open an archive file from a mail app (if desired)
Multithreading support for multicore CPUs
UTF-8/UTF-16 encoding support
Users have the option to donate to support the developer
No advertisements
Easy to use and attractive user interface
Cons
File manager is clumsy at times
Discussion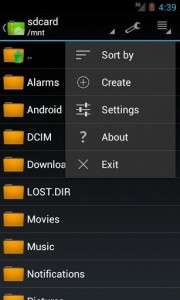 ZArchiver is my app of choice when it comes to this kind of thing. I've found other apps, but none of them really do the job quite as well as this app does. I do quite a bit of archive compression and transfer between my Google drive account my phone and my Nexus 7. With this app, everything is that much more streamlined.
It doesn't really matter what type of archive I throw at it, chances are it's going to work with ZArchiver. Yesterday in my review of PowerGrasp, I alluded to this app, talking about why I wouldn't switch to PowerGrasp and leave. Superior archive support is the main reason, but I also feel that this app is put together more professionally, and is a lot more functional.
There's a lot of features to love when it comes to ZArchiver, and the most interesting feature that I can see, is the multicore support. It's very interesting to see that in the feature list. Before writing this review I had no idea that there was even multicore support. Another interesting feature that comes to mind is the partial archive decompression. While I'm not positive on who exactly needs that kind of thing for their day to day use, It is nice to have something like that on the feature list.
Aside from the features, my absolute favorite thing about ZArchiver is that it's extremely advanced, has a ton of features but still manages to be very lightweight and humble. I've always come to appreciate that kind of thing no matter the platform, and for good reason.
It's not all flawless though. Sometimes the file manager can be a real annoyance. When you go to select something it can mistake a long tap (select) with a short tap (open). It can get very infuriating at times. Other than that, I have almost no problems or critiques with ZArchiver. It's the perfect app in my view.
It's safe to say that I wont be using any other app any time soon, as ZArchiver has all my needs covered when it comes to compression and decompression. I'm very impressed with it, and with each update it just gets better and better.
Conclusion and download link
If you're looking for a powerful archive extraction and compression app for Android, your search stops here. This is the app. There's really no competition. It does everything an archive program should do and it does it well. Plus it has a very respectable download size and a very humble memory footprint. What's not to love?
Price: Free
Version reviewed: 0.6.4
Requires: Any Android version
Download size: 2.6 MB
Related Posts