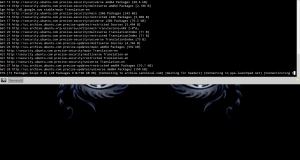 There's certainly no shortage of terminals on Linux, but what there is a shortage of, are terminals that are unique. Guake is a Quake-style drop-down terminal for your Linux operating system.
WHAT IS IT AND WHAT DOES IT DO
Main Functionality
Guake is a terminal emulator for Unix-like operating systems. Guake is a Quake console style terminal that can be accessed by pressing F12 on your desktop.
Pros
Complete font, color, and terminal profile customization
Drop-down style allows for quick command access at all times
Terminal skins
Supports transparency and pictures inside the terminal
Tab support
Keybinding support
Cons
Default theme is very unattractive
Skins aren't the greatest
Discussion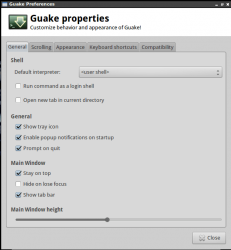 Guake is a very interesting terminal. If you've ever played any of the Quake games you'll understand the top-down concept. You can start Guake when you turn your machine on. The reason for this is that it will always be running. At any time that you want to enter a command you just press F12 and a terminal will drop down from the top of your screen. You can then enter any command you wish. I really like this concept. Having a terminal running in the background at all times, and then pressing a hotkey to open it up when you really need it. It's also pretty cool that they took the concept from the Quake games.
This being a terminal app, there really isn't any super advanced features, or really much to talk about. Terminal apps are pretty basic in nature, but can accomplish a lot if the user understands what they're doing. When it comes down to it, Guake has the standard customization and anything else you'd find in a terminal application for Linux. The main thing about Guake is the top down feature. Which is very neat. Guake, like any other terminal, supports tabbed windows.
I didn't have too many issues with Guake, but the issues I did have related exclusively to the user interface. The skins are very ugly (for my taste), and as far as the default interface goes, it could use a bit more work. I've used Guake on and off in the past, and it really has its own thing going for it. If I wasn't so content with Terminator, I'd probably start using it again.
CONCLUSION AND DOWNLOAD LINK
If you're looking for a terminal emulator on Linux that is different from all the other terminal emulators out there, you might want to check out Guake. It's a very cool terminal emulator, and one that is worth at least checking out. Who knows, Guake could quickly become your favorite.
Price: Free
Version reviewed: 0.40
Supported OS: Any Linux distro
Supported software repositories: Almost any Linux distro's repository
Download size: 397.9 KB
Is it portable? No
Related Posts