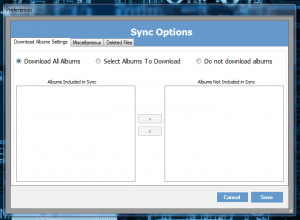 Uploading images to Facebook is pretty easy, if you're not uploading them in large quantities. Downloading images from Facebook and saving them on your computer can be a colossal pain, especially since you have to download them one at a time. Drop N Sync is a program that allows you to upload and download images from Facebook through an interface similar to Dropbox. It can sync entire folders to and from Facebook. Of course, this is an app that involves the social network Facebook, so if you don't use it you can bow out now. No one will judge you.
What is it and what does it do
Main Functionality
Drop N Sync is a Facebook album downloader and uploader, that automatically manages albums stored in a directory specified by the user. It will download photo albums from Facebook and photos that have been tagged by others, and place them in the appropriate directory. If a user drops a folder into that directory containing pictures, than Drop N Sync will upload those images to Facebook with an album of the same name as the folder.
Pros
Quick and painless, practically autonomous
Already setup, you don't really have to change any settings after install
The sync directory can be specified by the user
Can start the program when Windows starts, or disable this feature
Cons
Bloatware included in software installation package. When installing the app make sure you decline the extra bloatware the developers try to sneak in, there are two additional installs; one is for the Certified-Toolbar and the other is for Complitly.
Discussion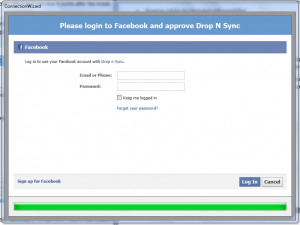 The first time you run Drop N Sync, it will ask you to sign in to your Facebook account and authorize the app by granted various permissions. It goes without saying, this part of the setup process is easy, you just have to login to your Facebook account and follow the prompts.
Once the application is all set up is essentially works like this, one file on your computer is designated as the download and upload directory. When the app is running it will check your Facebook albums online and download any photos and albums you have stored. It will also scan the Drop N Sync directory for any new folders you create. If you create a folder in the Drop N Sync directory and place some images within it, then the program will upload them to Facebook with an album name the same as the folder.
It's actually as easy as dragging and dropping the photos you want uploaded into the appropriate folder.
The ideal use for an application like this is to download all your Facebook images without going through them one by one. It's worth nothing that Drop N Sync will also download any images you're tagged in, so you don't have to go hunting those down one by one either.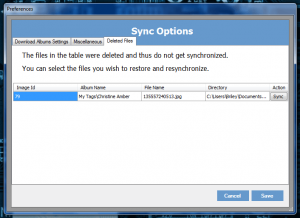 The settings and options are fairly straightforward, and there actually aren't that many. The main page just displays any albums you've chosen to sync to Facebook. The second window or "miscellaneous" tab allows you to disable downloading tagged photos, enable or disable the application starting up with Windows, Facebook account management and of course an option to change the storage directory of the synced files.
Any time you delete an image on your local disk, the information is recorded in the app. The third and final tab in the window allows you to manage any deleted files. You can also tell the software to re sync the files if you deleted them by accident.
Drop N Sync runs as a background process and uses anywhere from about 15MB of RAM all the way up to 35MB. The range is so broad because it depends on what the application is doing. Obviously when it's downloading or uploading it uses more RAM.
Conclusion and download link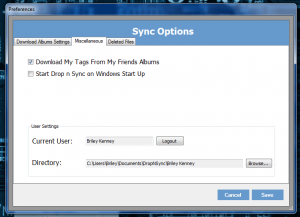 Drop N Sync is an incredibly fast and easy way to download entire albums from Facebook and upload entire albums to Facebook. It's fairly lightweight and even though it's not portable, it doesn't take up many resources. If you've been looking for an easy way to backup and download entire albums from Facebook, then this is the app for you.
Price: Free
Version reviewed: 1.0
Supported OS: Windows (XP, Vista, Seven)
Download size: 2.05MB
VirusTotal malware scan results: 0/45
Is it portable? No
Related Posts