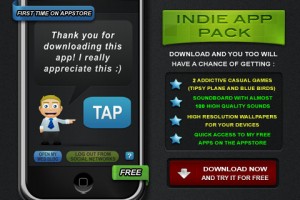 Someone recently asked me what I found most rewarding about reviewing apps and iOS games. In any given month, I review dozens of iOS titles, and I do it because it is lots of fun. One thing I like the best is how the App Store is a great way to find indie games and other independently developed apps: it's a constant reminder that anyone who is dedicated to a project can bring it to market. In my recent hunt for indie games, I stumbled across an app that caught my eye called Indie App Pack.
What is it and what does it do
Main Functionality
The Indie App Pack developed by theM Dec includes two games, a pack of HD wallpapers, a soundbox, and a "special bonus."
Pros
Offers two games that are perfect for casual gamers
Enjoy a fun soundboard or make use of lovely wallpapers
Funny array of sounds for entertainment purposes
Simple to navigate
Cons
The "special bonus" alluded to in the App Store description is merely a marketing tool that showcases other apps from the same developer
Annoying ads
App interface is a little dated and cluttered, some fonts are hard to read
Discussion
I have kind of a love-hate relationship with X-in-1 game and app packs. I love them, in theory: they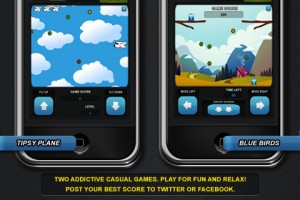 take up less room on a screen, and it's a great way to bundle related apps together. But it seems like every time I download a multipurpose app that boasts 4-1in-1 or 8-in-1 features, the app is a bit slapdash, with parts of the app being somewhat useless or poorly conceived.
Let's take a look at each aspect of the app, starting with the HD wallpapers. Art, especially visual art, is always extremely subjective. That being said, if you like bright colors and abstract patterns, these will likely appeal to you. You can mix patterns and colors, which is a nice touch.
The soundbox is kind of cool: it features about 100 different sounds. Whether you just like making goofy sounds, or you want to make some prank calls to your friends, these can help. The soundbox includes everything from farts to "bleep-bloop" computer sounds to scary noises.
The games are a bit of a mixed bag. Both have cute graphics, but are somewhat boring titles. Blue Birds is a simple game where you move a pair of birds up and down to gather points. It's a little too simple to feel really challenging. Tipsy Plane is a little more intriguing, though it is basically the same sort of "up and down" game as Blue Birds. Somewhat annoyingly, neither game takes up the full screen when you play it, making it a bit of a squinty affair.
Conclusion and download link
I've seen more imagination in other self-proclaimed "indie" titles. That being said, if you're looking for a casual timewaster game, goofy sounds, or a new background, this app may have what you want. It's not amazing, but at least it's free.
Price: Free
Version reviewed: 1.0
Requires iPhone/iPad/iPod Touch, iOS version 4.2 or later
Download size: 12.5 MB
Indie App Pack on Apple App Store
Related Posts