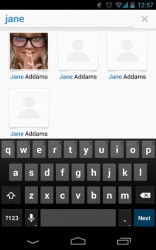 One of the things I hate most about my Android device, is that because of all the different accounts I have stored on it, I end up with multiple contact cards for the same person. This means, I have the same person three or four different times across various social media networks and accounts. With stock Android you can merge or join contacts individually but the process of doing so can be a real pain. Merge+ is a simple Android app that will scan your Android phone and combine any duplicate contacts for you.
What is it and what does it do
Main Functionality
Merge+ is an incredibly simple and straightforward Android application that does one thing — it merges any duplicate contacts on your phone or tablet in order to clean up your address book. In other words, it delete duplicate contacts. Merge is actually designed to go along with another app called Contact+ which offers a bunch of advanced contact information, but luckily it's not a prerequisite.
Pros
Simple and straight to the point

Successfully identifies and removes duplicate contacts

Merges multiple entries for a single person
Prompts you to review merger to check for mistakes
Cons
Main menu includes poorly placed advertising link to Contacts+

Uses about 20MB of RAM while running, which is quite a lot
You have to force close or kill the app with a task manager
Discussion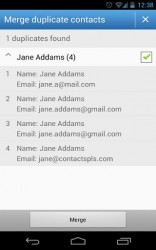 I don't like using third party contact applications on my phone because I feel like they always cause unnecessary bloat. In fact, a lot of times it seems that even the stock contact organizer is a pain in its own right. Like many people, I use my phone for everything which means I'm signed into a wide variety of accounts including Gmail, Google+, Facebook, Twitter, Path, LinkedIn, and I'm sure there's more. The problem is, a lot of these apps also synchronize your contacts to your device. This results in a lot of minor issues, namely multiple entries for a single contact.
Merge+ only does one thing, but it does that one thing very well. As the name implies, it will scan the contacts on your phone and automatically merge any duplicates. Of course, before joining any contacts it will ask for your permission and allow you to review the merger. This helps prevent the app from joining two contacts with the same name onto a single contact card.
Once the app is installed and opened, there are only two options for you to choose from. One option allows you to scan for duplicate contacts on your device. The other option is a link to the developers Contacts+ application. The Contacts+ link on the main page is directly below the "find contacts" button, which happens to be the main button you need to press. This is bothersome. Why? Well, because it's very easy to hit the wrong button by accident.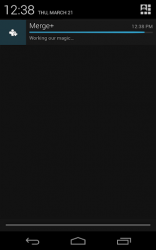 When you tap the "find duplicates" button the program will scan your contacts and push a notification to the Android notification tray. The notification essentially tells you the status of the scanning process and also identifies how many duplicate contacts were found.
If duplicate contacts are indeed discovered, the application will prompt you to merge the ones with similar information. All you have to do is review the merger and then tap the "merge" button. That's it. That's Merge+ in a nutshell. It's simple, straightforward and there's no clutter- just the way I like it.
For reference, Merge uses about 20MB of RAM while running in the background. On my device it didn't seem to close on its own even when I removed it from the recent apps list. If you want to shut it down you'll have to use a task manager or the Android settings to force close.
Conclusion and download link
Merge+ is an incredibly simple application that serves one relatively useful purpose — it finds duplicate contacts on your device and merges them into one. Ultimately, it helps eliminate the pesky problem of having multiple contact entries for a single person. Before joining any contacts, the application will allow you to review the merger, so you don't have to worry about the wrong contacts being joined. It's free, it works well and there's no bloat to contend with. What more could you ask for?
Price: Free
Version reviewed: 1.0.0
Requires: 2.1 and up
Download size: 614KB
Related Posts