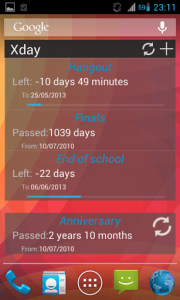 One tool that would be incredibly useful is if you could calculate time just by entering a date. For example, what if you could enter the date of your next birthday, and find out exactly how long it will be until that date arrives? Of course, there are so many more practical uses for such a platform. Personally, I would use it to calculate how long until my anniversary- I like to stay out of trouble. Xday is a free Android app that does exactly that. You can enter a date, near or far, and it will return the remaining amount of days, hours, minutes or whatever parameter you choose.
What is it and what does it do
Main Functionality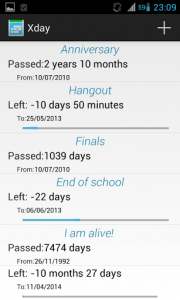 With Xday, you enter a specific date, and the application will calculate how much time is left until that date arrives. Before you submit the desired date you can set parameters for the output like years, months, days, hours, and minutes. The application also comes with a homescreen widget that can display related calculations.
Pros
Clean and simple UI
Very easy to use, just specify a date and the related parameters
The included widgets will display time remaining right on your homescreen
There's a single advertisement and it can easily be avoided if you use one of the widgets (although, the ad-free version is only a $1)
You can export data, and import it if you want to move your data to another device
Optimized for tablets too (I did not use the tablet version)
Cons
Uses 36MB of RAM while running, which is quite a bit for such a simple app
It would be nice to see integration with the Android calendar app
You have to refresh the homescreen widgets after rearranging dates in the list
Discussion
Xday is a pretty simple application that can be practical and useful in many situations. There are hundreds upon hundreds of reasons why you would want to keep track of the time remaining until a certain date. Whether you want to know how long until your wife's birthday, how long until your anniversary, or even how long until your family vacation, Xday will tell you.
The user interface is simple, and easy to navigate. The main window is a list that displays any times you've entered for calculation. In the top right corner of the window is a plus icon, which is used to enter a new date.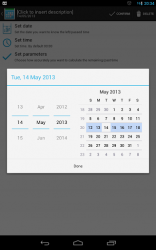 Once you tap the plus icon to enter a new date, there are three different settings to configure: the final date, the exact time and the parameters. The date and time are pretty straightforward, and they need no explanation. The parameters on the other hand allow you to specify the output measurement. For example, you can tell Xday to display the remaining time in years, months, weeks, days, hours and minutes. Of course, you can also enter a description or name for the specified date at the top of the window. Once you've chosen all the necessary settings, you can save the event and it will spit you back out to the main window.
The application will calculate the time remaining according to the parameters you set, and it will tell you how much time is left until the specified date. If the date has passed, then it will tell you how long it's been since the date passed. Easy peasy, and incredibly simple.
Xday also comes with a couple homescreen widgets both of which do the same exact thing. The real difference between the two widget types is that they are of varying sizes. The widget itself displays any dates you've entered for calculation and includes a shortcut to the add date function. Tapping it will load Xday and automatically pull up the new date entry window. There's also a refresh button so that you can keep the calculations in sync, which comes in handy when you have the parameters set to display hours and minutes.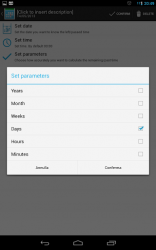 On the main window, you can tap the Android menu button to access some extra features. If you so desire you can backup and restore data (export and import), and reorder the dates in the list by order of importance. When reordering, you can drag dates around in the list and arrange it exactly how you want. It would be nice if there was a quick arrange function that automatically arranged dates by least time remaining, but it's not difficult to arrange them that way yourself.
Xday works exactly as advertised and it works well. Personally, I like software that only includes the bare necessities because sometimes when you have too much clutter things start to get in the way. The free version does include advertisements, but they are not obtrusive at all. There's a single banner displayed at the bottom of the main screen, and that's it. The widget includes no advertisements which is a little surprising, but definitely pleasing. If the single advertisement becomes a bother you can upgrade to a pro version for $1 to remove it.
For reference, Xday uses nearly 36MB of RAM while running.
Conclusion and download link
If you ever feel the need to calculate the days remaining to a specific day, Xday is incredibly useful. You can enter multiple dates to track and display them all on your homescreen with the included widgets. It tells you how much time is left based on the parameters that you set, and once the particular date has gone by it keeps track of how much time has passed since. Once thing in particular that would be nice to see (possibly in a future update) is integration with the Android calendar app. For example, it would be great if once you set a date the application submitted an event in the calendar app and sent out alerts when the date was drawing close. As far as I can tell, nothing like this has been implemented yet. Still, if you need to keep track of time remaining then Xday is perfect for that.
Price: Free, $1.00 (pro/ad-free)
Version reviewed: 1.2.5
Requires: Android 2.2 and up
Download size: 1.4MB
Related Posts