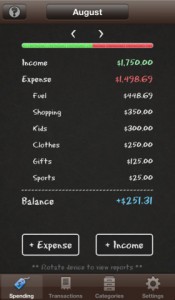 For many of us, our iPhone is a device that we use to track the minutiae of our everyday lives. Not only do we update Twitter and Facebook with what we ate for lunch or what we saw on our commute, but many of us are also constantly entering data into our iPhones as well. Most commonly, at least in my social circle, what's being entered is calorie information, but I also have friends who diligently enter every single expense and bit of income into a personal finance app. It can be kind of a pain in the butt to constantly update apps like this, but it is a good way to keep yourself cognizant of your habits. If you need a personal finance app yourself, one popular option is Spending Tracker.
What is it and what does it do
Main Functionality
Spending Tracker is an iOS app developed by MH Riley Ltd. This app allows you to better track both your income and your expenses, and find the optimal balance between the two.
Pros
Superbly simple input and design
Reports are easily accessed by simply turning your iPhone on its side
Can be passcode locked at your discretion to enhance your privacy
Tons of categories to help you get a better picture of your finances
Cons
App has yet to be updated once this year. As of this writing, last update occurred on Dec. 11, 2012
Free version lacks a couple of perks found in the Pro version, such as export to CSV functionality, repeating transactions, priority support, and backup/restore functionality.
Discussion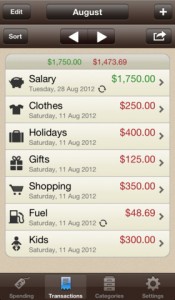 One thing I really hate about personal finance apps is how poorly most of them are designed. Sure, their functional, but I feel like 90 percent of the apps I try out I stop using after a few days. This is usually because set-up is a huge pain in the butt, or inputting new data is only possible through a clumsy interface.
However, Spending Tracker doesn't have that problem. In fact, out of all the personal finance apps I've used personally or reviewed for websites, Spending Tracker has the most simple interface. From the "Spending" tab, you simply tap either "+expense" or "+income" to update your balance sheet. That's it. That's as complicated as it ever should be, and it's refreshing to see an app that makes it simple for users.
People in my parent's generation are just a lot better about tracking their expenses, in part because they grew up in an age without ATMS and wrote more checks (and therefore used the ledgers in their checkbooks religiously.) Most people in my generation (at least in my social circle) tend to rely on mobile banking or ATM receipts to track their balances. For people like that, this app can be a really helpful, simple way to better monitor expenses and savings.
Conclusion and download link
If you need a really simple tool for tracking your finances, this may just be the app for you. It's simple to use, simple to update, and offers people the chance to get their finances under control. It's free, so why not give it a spin and see if it works as well for you as it did for me.
Price: Free
Version reviewed: 1.3.2
Supported OS: Requires iOS 5.0 or later

Download size: 12.3 MB
Spending Tracker on Apple App Store
Related Posts