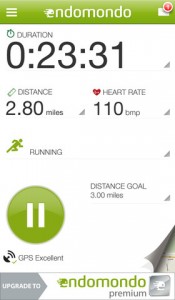 If you looked at my phone, you might think I have too many fitness apps. I have two different running apps, plus a walking app. It seems totally stupid, because I have three apps that do the exact same thing. But I really need three apps: one to map my walks for casual exercise/calorie burning, a running app to track my progress towards my per mile goal on short 1-3 mile runs, and a running app to track my progress on 10K running goals. I don't want to map these all in the same app, because it wouldn't give me an accurate picture of my average running speed, because I'd be averaging some very different numbers together. That's why I was interested in checking out Endomondo Sports Tracker.
What is it and what does it do
Main Functionality
Endomondo Sports Tracker is an iPhone app that allows you to track your time and distance with a variety of exercises and outdoor pastimes. You can also use this app is get social encouragement during your exercise, or try and beat the personal best of a friend. This app can be used to track running, walking, cycling, hiking, kayaking, and tons of other activities.
Pros
Gorgeous design and intelligent UI choices
Sign up with Facebook or create a new account manually
Easily socialize your account by importing Facebook or iPhone contacts
Tons of workout styles to chose from, including "basic" tracking, follow a route, beat your personal best, beat a friend, interval training, running test, and set a goal
Customized display zone lets you focus on duration, calories, heart rate, speed, distance, average speed, or hydration needs
Track your heart rate (requires ANT+ heart rate monitor, as well as a Fisica Sensor Key)
Audio coaching keeps your eyes on the road, not the screen
Get real-time encouragement during your workout from your friends in your newsfeed
Cons
Banners ads are distracting and annoying
You need to upgrade to PRO to get features like graphs and calorie goal-setting tools, or the ultra-handy weather conditions recorder (to track differences in run times caused by ground conditions like snow, ice, or rain)
Some users might feel "nickel and dimed" after buying a few features individually to upgrade the app
As with any GPS-reliant app, this app can run down your battery quickly
Discussion
My first impression when I downloaded the Endomondo Sports Tracker was "wow." This is by far the most attractive,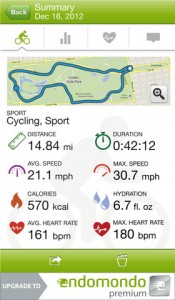 well-conceived fitness tracker I've ever laid eyes on. I'm a big fan of some other fitness apps, including the Nike+ running app. That app comes close, but for both features and looks, the UI in Endomondo definitely has an edge.
Some users will definitely feel nickel and dimed if they splurge on a few extra features in the free version, or if they upgrade to a premium/subscription package. However, it's hard to stay mad at the developers for long: the app looks great, functions great, and is packed with intelligent features.
I love the fact that now I have an app that tracks all of my various fitness activities at once. And while the emphasis here is definitely tracking distance-based activities like running, cycling, or swimming, you can also use it to track other fitness activities like volleyball, cricket, dancing, skateboarding, ping pong, and even wheelchair sports.
Conclusion and download link
If you're tired of jumping between multiple fitness tracking apps, Endomondo Sports Tracker is a great app that lets you centralize your fitness tracking. Trusted by a community of over 13 million users, Endomondo is worth trying, even if you're happy with your current fitness app selections.
Price: Free
Version reviewed: 8.2.1
Supported OS: Requires iOS 5.0 or later

Download size: 14.4 MB
Endomondo Sports Tracker on Apple App Store
Related Posts