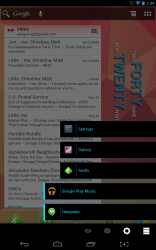 There are so many launchers available for Android that it's not even funny, not that it ever was in the first place. It's to be expected though, especially considering the open nature of the OS. Android is about customization, usability and the freedom to do what you want with your device- at least for the most part. One of the most common uses for a launcher is to speed up the browsing process. In other words, it brings your most used apps and widgets to the forefront. HomeFlip is an extremely lightweight launcher that shows recent apps via unique collapsible panels that can also be customized.
What is it and what does it do
Main Functionality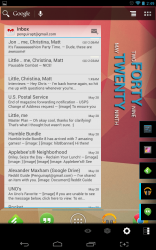 HomeFlip is a launcher like ADWLauncher EX or Buzz Launcher but it isn't a homescreen replacement app; it is an app launcher. HomeFlip is designed to be light on resources, while offering you quick access to the applications you use most. When tapping the home button, it brings up a unique panel-based interface that launches apps and which can be customized to match your personal tastes.
Pros
Can be used in combination with other homescreen launchers
Displays recent apps in unique panels which can be customized

Swipe panels to the left (extend them) to save them as favorites
Swipe panels to the right (collapse them) to remove them from the list
Display hidden apps (dismissed) with the tap of a button
Collapse all panels to display just icons on the edge of the screen and expand them again with the tap of a button

Supports custom themes (see con below about themes)
Extensive customization and application settings
Remarkably lightweight and responsive launcher
No advertisements whatsoever
Cons
Themes have to be manually installed by downloading from a website and then importing zip files
Discussion
Unlike other Android launchers, HomeFlip is not designed to replace everything on your device. There are no additional app trays, no homescreen changes and so on and so forth. That means you could certainly use HomeFlip in combination with one of many different launchers.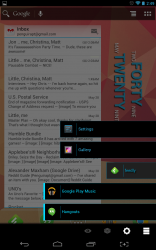 There's a setting for HomeFlip that allows you to assign a fallback home screen. This means that multiple taps of the home screen will bring you back and forth between the two launchers.
Here's a quick rundown of how it works. The default call button is the software home button for Android. When you tap the home button it calls up a panel based menu. Just like the recent apps list for Android, HomeFlip will display the most recently used apps and they will each appear in their own panel. If you want to designate an app or panel as a favorite, all you have to do is swipe it to the left. The panel itself will extend further across the screen indicating that it's a favorite app. By designating an application as a favorite, it will prevent it from being removed from the list.
At any point in time, you can edit the list and remove items by swiping a panel to the right.
The idea here is to eliminate the need to return to the app drawer and instead offer you streamlined access to your most used apps from anywhere. With HomeFlip you can simply tap the home button and bring up your most used apps from anywhere in the OS.
An appealing animation displays when opening and closing panels, adding to the overall aesthetics of the app. You can also view hidden apps (closed panels) with a single button tap, allowing you to restore any shortcuts you may have accidentally tossed out.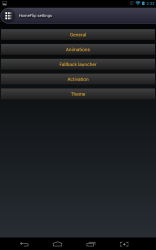 There's a huge list of customization options and advanced features which I'm not going to cover in depth here, because it would just take way too long. Instead, I'll list out the more important options that are available:
General

Left handed mode (enable or disable)
Full screen mode
Show all apps
Show only favorites
Background dimming

Animations
Fallback Launcher
Activation
Theme
You can customize the appearance of HomeFlip by downloading themes. Although you have to manually import the themes by downloading from a website and then importing zipped packages into HomeFlip.
For reference, HomeFlip uses a mere 12MB of RAM while running, and the install package is only 65KB. Needless to say, for a launcher it's remarkably light on resources.
Conclusion and download link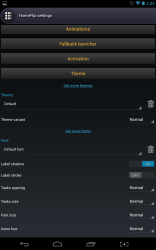 All in all, HomeFlip is a unique take on an Android launcher app. It was originally designed by XDA member id0x12345, and has since been expanded to be included on Google Play. It's a remarkably lightweight launcher, and it allows instant access to user-defined apps. The real convenience of HomeFlip is that you always have instant access to your most used apps from anywhere on your device. If you're looking for a full-scale homescreen replacement app with an application tray, widget support and homescreen customization you should look elsewhere. However, if you want an app launcher you can use in combination with your current homescreen replacement app, then check out HomeFlip.
Price: Free
Version reviewed: 1.26d
Requires: Android 4.0 and up
Download size: 65KB
Related Posts