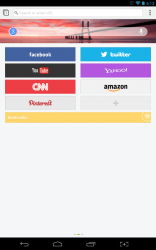 The stock Android browser has improved significantly over time, but there are still features missing that many of us would like to see. For example, cross platform support with Chrome would be nice just like we see with Chrome for Android. Many would think it seems silly to have the support in both browsers, but the truth is not everyone uses Chrome on both platforms. That being said, there are definitely a few other features that would be nice to see in the stock browser. That's not even taking into account the forked browsers from manufacturers like Samsung. Next Browser is a third party browser for Android from the same company that designed Go Launcher, one of the more popular launcher apps available for the platform. It borrows a mashup of various features from other browsers and brings them together to make web browsing much more enjoyable experience, or at least that's what the developers advertise. Let's take a closer look and find out how it works.
What is it and what does it do
Main Functionality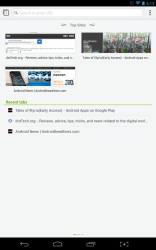 Next Browser is a new mobile browser application for Android that incorporates some very useful features into a single platform. The developers pretty much cherry picked some of the best features from other browsers and compiled them into the Next Browser. That being said, aside from some of the additional features it works just like any other mobile browser.
Pros
Clean UI that can be navigated using simple gestures
Works with extensions like many desktop browsers (there aren't many available currently)
Next View tab is essentially a customizable RSS feed right in your browser
When entering information into the navigation bar the browser will suggest information via content tags
Sign-in to Facebook or Google accounts to synch data across devices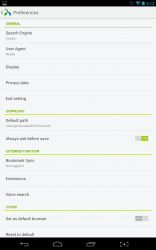 Cons
Not many extensions available currently (there are four), but more will be available eventually
Uses about 90MB of RAM or more when multiple tabs are open
It's easy to mess up the gestures on the tab preview screen, ultimately causing you to close tabs by accident
You can't add custom RSS feeds to the Next View tab, they're pre-configured feeds
Discussion
Right, since all browsers are pretty much the same I'm not going to bother covering the traditional features, just the ones that stand out. Next Browser, as you would expect, includes an address bar with integrated search support, bookmarks, tabbed browsing and all the usual mobile browser goodness.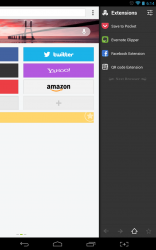 Let's start with the interface, which is relatively clean and extremely responsive. In fact, when compared to Chrome I find that Next Browser is a little snappier when loading pages and content. When you open the browser for the first time it will automatically take you to an empty tab. At the top of the screen is the navigation bar, and below that is a Google search bar. Then you have banners for some popular websites like Facebook, Twitter, Pinterest and Amazon. You can also see any bookmarks you've saved from the main screen.
Swiping to the left will reveal the top sites window, which aggregates content based on your web traffic. The sites you visit most will show up on this tab. It basically allows you quick access to frequented content that you haven't yet added to a bookmark, or don't want to. Swiping to the right will bring you back to the main page.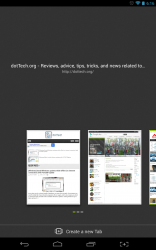 While on the main page, swiping to the right will bring you to the unique next view tab. It's basically a customizable RSS reader, albeit with toned down user options. You can't enter custom RSS feeds to follow, but instead you choose from several pre-defined categories and websites. All the categories are displayed in the main feed with an attractive banner. Navigating to one of the categories will open the related RSS feed which greatly resembles Feedly's layout.
At any time you can open a new tab by tapping the related button sitting in the top left, right next to the navigation panel. This will open a sub-menu that displays a preview of all open tabs. Swiping down across one of the open tabs will close it. In addition, if you have multiple tabs open you can swipe down on the main screen of the tab to close the active one, as well.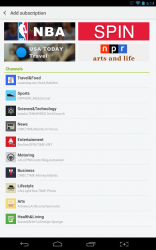 Most desktop browsers support extensions, add-ons and tools which ultimately expand the usability of the browser. Why shouldn't we have the same support for mobile browsers? The developers of Next Browser felt the same way, and because of that the browser is compatible with extensions. Keep in mind, there are currently only four different extensions available, but the catalog will be expanded over time. The extensions available right now are compatible with Pocket, Evernote, QR Code, and Facebook. Like desktop browsers, you have to download and install each extension separately in order to use them. I have to say I really love the Pocket extension because it allows you to conveniently save content to your personal Pocket. If you've never used Pocket before, it's essentially a stylish web content saving tool that allows you to download web content to read at a later time.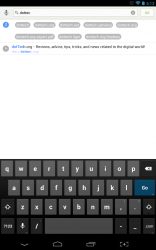 To access the extensions, you just have to swipe from right to left starting at the very edge of the screen, It will open a collapsible side menu off to the right with a list of active extensions and recommended ones. Since there are only four extensions available at this time, all four are always displayed via this menu. At the bottom of the side menu is also where you'll find the back button, forward button, home button and favorite (bookmark) button.
When a webpage is open (meaning you've navigated to a particular URL), you can swipe from left to right to open the tab preview window. You can also swipe from right to left to open the side menu.
One other pretty neat feature worth mentioning, is that when you start typing in the navigation bar instead of displaying frequent search queries the browser displays tags related to what you are typing.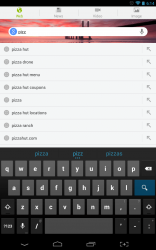 When I started typing "dott…" for example, Dottech.org and Dottech both appeared as tags below the window. If my description doesn't make sense to you refer to the image on the right.
If you sign into a Facebook or Google account then Next Browser can synchronize your personal content between devices. In addition, you can share any pages you browse with friends, family or followers via the compatible social networks.
For reference, Next Browser uses about 6MB of RAM while running in the background with no additional tabs open, and up to 90MB of RAM or more while multiple windows are open.
Conclusion and download link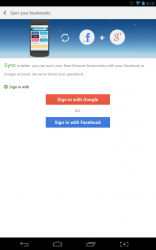 Next Browser definitely offers some interesting features over other browsers. You can synchronize content between devices by signing-in to a Google or Facebook account. That's always helpful if you switch between multiple Android devices like I do. In addition, the browser makes use of extensions just like traditional desktop browsers a la Chrome, Firefox and others. Right now, there are only a couple extensions to choose from, but the list will be expanded over time. The responsive user interface is fantastic while browsing, and Next loads webpages pretty quickly too. The gestures can become a problem at times, for example it's easy to close a tab you don't want to when trying to access the tab preview window. That being said, they're also quite helpful. On the main window you can scroll left or right to the most used websites, and Next View tabs respectively. Next View is pretty much an RSS reader albeit with predefined subscription lists.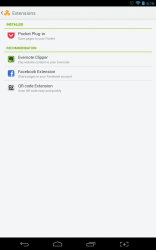 Unfortunately, Next Browser does use a lot of resources while running, but that's to be expected of most mobile browsers really. In comparison, Chrome for Android uses about half as much memory when two browser tabs are open. Still, even with its quirks Next Browser is a pretty decent alternative to the other browsers out there. With the added support for extensions, the Next View tab and unique search tags it certainly offers something a little fresh. That being said, it's really just a mashup of popular features from various browsers. Could you do without this app? Yes you definitely could, but that holds true of any app really. If you want a little something more out of your browser it wouldn't hurt to check it out. Personally, I'll keep using Chrome until Next Browser isn't such a resource hog.
Price: Free (Beta)
Version reviewed: 1.o1
Requires: 2.2 and up
Download size: 3.2MB
Alternate Platforms: None (Android only)
Related Posts