Earlier this week, I was raving about Get Mac Apps, a web app that lets you install a bunch of different apps at once using a Terminal command. Get Mac Apps featured a bunch of apps that were quite familiar to me, but many others that were not. One of the apps I ended up downloading using Get Mac Apps was a PDF reader/annotator called Skim.
What is it and what does it do
Main Functionality
Skim is a free PDF reader and annotation tool. Originally conceived as a tool for annotating scientific papers with ease, Skim also offers highlighting, full-screen views, and can be controlled by Apple Remotes.
Pros
Totally free download
Great for users running an older OS– Skim supports all the way back to OS X 6.6 on the current version, with previous versions also available for Leopard!
Features a robust wiki/FAQ to help users get oriented and get answers to common questions or problems
Plays nice with BibDesk, LaTeX, SyncTeX, and PDFSync
Developers suggest using their app to save paper: stop printing out pages to review them and use this more elegant solution for proofing and annotating instead
Cons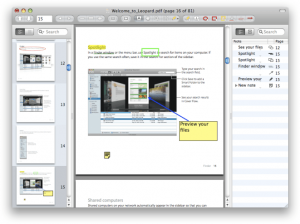 Interface is somewhat complex and takes a while to fully master
Toolbar is slightly underwhelming: it's not totally comprehensive, so prepare to use a lot of hot keys or a lot of drop down menus
According to the FAQ, notes are not preserved when you send the file over email
You may need to reset your font cache to get some fonts to display correctly (this seems to be a particular issue with Leopard)
Discussion
Skim isn't the prettiest app out there, but it is really functional. It may look pretty boilerplate, but it offers a wide array of notation options to get things just right. There are also magnification tools, bookmarks, and a handy visual history to help you find where you left off.
But while it's a solid app that's fairly simple to get around without any foreknowledge, there are so many dropdown menu choices and hot keys that it will take a bit of time to master this app's layout and options. There are some icons on the toolbar, but not as many as you might like.
One thing that's a bit weird is the fact that email will ensure that your notes won't be preserved. You can "lock" the notes by saving the document under the "With Embedded Notes" option. However, doing this will make the notes uneditable in the future. There are several other options for saving your PDF so that the notes are preserved, including saving as .fdf or .skim, which are outlined in the FAQ.
Overall, Skim is a fairly lightweight PDF reader that also does double duty as an annotator. You can easily highlight text, place boxes around important paragraphs, or add either text notes or anchor notes. It may not be super pretty, but it's a workhorse.
Conclusion and download link
There are lots of good uses for this app. You could use it to review a report and make notes, view PDFs for studying in a distraction-free environment by going full screen, or working on a project where you want to save the document and your annotations separately. Overall, this app is full-featured, and makes it simple to add notes to any PDF. If you need an annotation tool, this is a solid choice. Plus, it's a freebie!
Price: Free
Version reviewed: 1.4.3
Supported OS: Mac OS X 10.6 or higher
Download size: 10.9 MB
Skim on Sourceforge
Related Posts