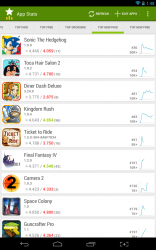 So I was part of a team recently that launched a game, or more specifically an app in the Google Play store. Needless to say, I check on the game's status daily. It's good to read the customer reviews, see what kind of ratings the game is getting, and even to see how it's doing in the Play store. Some days the app may move up a list, while other days it may drop and lose it's place. As it stands though, unless you have direct access to the Google developer dashboard you can't really track a lot of the information in-depth. App Stats (Beta) from Cloud.tv, the same developers behind HD Widgets, recently launched an app that allows you to track the progress of various market apps. It does require at least Android 4.0 in order to use however, so anyone running an older version of Android will be out of luck I'm afraid.
What is it and what does it do
Main Functionality
App Stats allows you to track the rating stats of any applica6424099778101550tion in Google Play. Furthermore, you can review lots of data like how frequent updates are offered, what the average daily ratings are, how the app ranks in the Play store catalog and much more. What's better, is that you can allow the app to notify you anytime something major happens with tracked apps. This tool is very valuable if you're a developer, but honestly anyone could use it to track their favorite Android apps and games.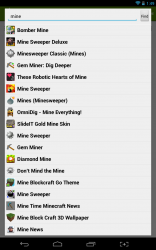 Pros
The UI looks quite similar to the older Play store design, which many people like
Useful app and game tracking right from your tablet or

smartphone

Browse Play store categories for apps
Track user-specified apps and games
Receive notifications and alerts when something big happens with

tracked

apps
You can set App Stats to only update via

Wi

-Fi, change the update interval and keep it from running in the background
It's totally free and there are no pesky advertisements (none at all)
Requires Android 4.0 and up
There are no in-depth stats on total number of sales or installs, no counter or anything (just the same range chart offered via Google Play)
Some categories are missing (top new paid games, top new free games)
Discussion
The first thing you'll notice about App Stats is that it actually resembles the Play store a bit. It's relatively easy to use, as well.
The main page, or landing page is where you track custom apps of your choosing. You select an application or game, by searching for the name, and after selecting one it's saved to a list. Saved apps and games will then alert you via the Android notification tray when there are significant changes in rating patterns. You can also set other notifications, but we'll get to those in a bit.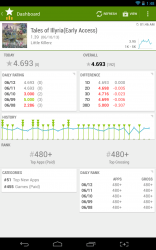 The other tabs across the top of the window display the different Play store categories for apps. It essentially allows you to browse the same categories of apps that exist in the Play store to take a look at stats. The tabs include top paid, top free, top grossing, top new paid, and top new free. Do you recognize any of those categories (that's a rhetorical question)?
What stats can you see exactly? You can track an apps daily rating, its total history, its rank (daily and all-time), and what categories the app appears in. All the statistics are clearly displayed and you even get some nice charts and graphs to go along with the data.
As for the notifications, they can be set by visiting App Stats settings menu. You can set App Stats to alert you when your tracked apps or games do one of the following:
App update releases
Price changes
If it's featured, or removed from a featured

list

If it gets a significant rating change
If it passes a particular rank milestone
If it changes in category rank
When it passes specific grossing milestones
If the app has a new rank altogether
If the app developers are listed as a top developer (or unlisted)
If the app or game makes it to an editor's choice list
Also in the settings menu, you can change how App Stats polls data by enabling (or disabling) background polling, changing the refresh interval and even restricting the app to only update via an active Wi-Fi connection.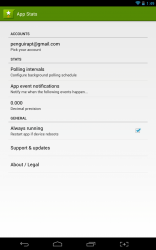 It's a great tool for developers to track the stats of their application or game, like I said above. However, if you just want to see how will your favorite apps are doing, you can track any app or game that's available in the Play store. If you don't have automatic updates turned on for the official Google Play app, then the notification for app updates can be pretty useful to anyone.
For reference, App Stats uses about 28MB of RAM while it's running.
Conclusion and download link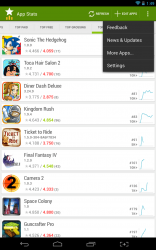 App Stats is pretty much exactly what the name implies — it offers in depth data pertaining to an app's ranking or update progress. Although, there's not really anything here that would entice you to to use the application for anything other than to track the progess of an app, if you're looking for a mobile, easily accessible way to track Play Store app stats, then this application is certainly a good choice.
Price: Free (Beta)
Version reviewed: 1.0
Requires: Android 4.0 and up
Download size: 4MB
Related Posts