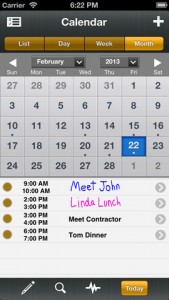 Sticking to a schedule can be tricky. Unfortunately, navigating the ins and outs of a new scheduling app can be just as complicated. As much as they promise to make your life easier, a lot of the UIs in scheduling apps are kind of a mess. Thankfully, some scheduling apps are actually pretty easy to get around. One such app is InFocus Checklist, developed by Elixir Software Group.
What is it and what does it do
Main Functionality
InFocus Checklist is a simple app that helps you manage your schedule.
Pros
Syncs with your existing calendar to import your schedule
Enter to-do list items via keyboard or hand-write them in different colors
Handwriting input is nicely responsive
Share your schedule with others
Text-to-Voice reads your schedule to you while driving, so you can keep your eyes on the road
Cons
Maximum of 3 rows of handwritten info
Easy to accidentally delete text (needs a better undo functionality)
Discussion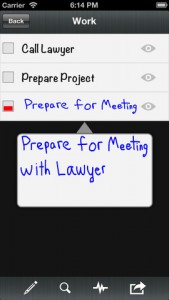 The UI here is quite serviceable, and with controls that make sense. Drag down with one finger to add text in a new cell, or do a long hold to drag items around. In Calendar view, tap the event to see a pop-up window with the full list of event details. Overall, InFocus is quite a simple little tool, and it is very simple to get your bearings.
One thing I love about this app is the text-to-voice feature. Powered by iSpeech, the quality of the speaker's voice is very good. It's clear, easy to understand, and it is a great way to get a rundown of your schedule while you're behind the wheel of a car and want to keep your eyes on the road.
I was actually impressed with how well the handwriting input works in this app. Even without a stylus, handwriting is smooth, legible, and (believe it or not) pleasurable. Writing in this app is a dream. I do wish you could write more than three lines, however. Overall, this is one of the best input systems for handwriting I've played with.
InFocus Checklist offers a calendar with List, Day, Week, or Month views to help you get the big picture, or narrow your focus. Still can't find what you're looking for? There's a fast, accurate, and robust search engine that lets you find scheduled items or reminders by keyword. There isn't a feature to search for specific date ranges, however.
Conclusion and download link
If you want a scheduling tool that talks to you, makes your life easier, and is simple to navigate, InFocus Checklist is worth checking out. If you love a bargain, you can get excited that InFocus Checklist is currently free at the time of this writing — it is normally $1.99. This is a simple, straightforward app that can help you feel more in control of your day-to-day life.
Price: $1.99
Note: This app is free for a limited time at the time of this writing
Version reviewed: 1.2.1
Supported OS: Requires iOS 5.0 or later

Download size: 11.6 MB
InFocus Checklist on Apple App Store
Related Posts