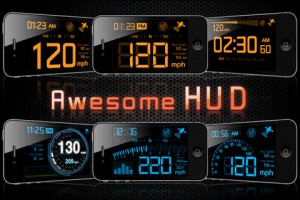 We all have a soft spot for old things. For some people, it's antiques. Others dig retro games. My favorite outdated thing to collect? Old, outdated, and neglected App Store apps. The App Store is always packed with the latest and greatest games and apps, but a little digging can uncover some older apps and games that people have forgotten about. Sometimes, these apps are hidden gems. Other times, they've clearly been put out to pasture for a reason. When I stumbled across a little app called Awesome HUD, I wasn't sure what category this app would fall under.
What is it and what does it do
Main Functionality
Awesome HUD is a heads-up display that's designed to be placed on your car dashboard and reflect in the glass. This app tracks speed, time, distance, and even plays music.
Pros
Attractive design
Great for users who refuse to upgrade their iOS (this app has the relatively low minimum requirement of iOS 3.0)
Can play random iTunes songs, displays direction and speed, and also displays the current time.
Mount on your dashboard or hold in your hand to read the display, or activate the HUD mode that reverses the image (allowing you to shine the screen upward and view the reflection in the windshield of your car)
View speed in either km/h and MPH
Deeply customizable themes and colors
Cons
App hasn't been updated since 2011!
HUD is cool, but it may not seem useful to those with advanced dashboard/speedometer readouts on their car's dash
HUD reflective feature only works well at night
Discussion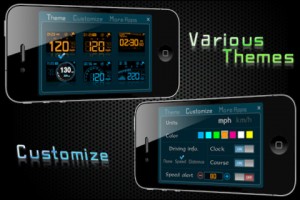 Even when this app was brand new, I'm not sure I really would have gotten the benefit. I had to wrack my brain for situations where I'd find this app helpful. I guess it would be a nice thing to put on a mount on your car's dashboard if your speedometer broke, or a fun tool to use on a bike ride to help calculate your calorie loss.
One thing that Awesome HUD has going for it over a traditional car dashboard is the ability to record your past driving milestones. Awesome HUD will keep track of your highest speed, your average speed, how long you've been driving, or how many miles you have traveled. That last bit is quite nice: I can't tell you how many cars I've driven in over the years that have had a busted odometer.
When an app has gone two years without an update, there are usually two scenarios in play. Either the app has been left untouched because it is basically perfect (great UI, no major bugs, solid design), or the app has been abandoned and left to slowly become obsolete. In the case of Awesome HUD, it could use a bit of a polish here and there. However, it does stand up pretty well for an app that hasn't been touched in years.
Conclusion and download link
Awesome HUD wasn't exactly my cup of tea. I couldn't really see myself using it often, though I think it has a very attractive design. Despite not being updated for ages, there are some good features here. Give it a spin: it wasn't a stunner for me, but someone who spends more time in a car (or likes to speed) might get more out of it.
Price: Free
Version reviewed: 1.03
Supported OS: Requires iOS 3.0 or later

Download size: 2.9 MB
Awesome HUD on Apple App Store
Related Posts