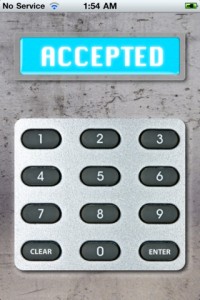 In a world where both celebs and regular Joes get their phones hacked on a regular basis, many people are worried about the content on their phones. Your personal photographs should stay personal, but maintaining privacy over your Camera Roll isn't always easy. Thankfully, the App Store has a pretty good array of privacy apps to choose from. If your iPhone contains personal or work-related photographs that you want to keep under wraps, an app like Don't Touch My Pics FREE is worth checking out.
What is it and what does it do
Main Functionality
Don't Touch My Pics FREE is an iOS app that aims to take and store private photos. The app offers both a normal mode and a decoy mode, for additional subterfuge.
Pros
Attractive, simple design
Customizable slideshows and full retina display support
Protect your photos with a passcode
Can still be used to share private photos with trusted friends using Email or MMS
Cons
Free version only allows you to create 2 albums, and limits storage across those albums to just 16 private photos
Passcode is limited to just 4 numeric characters: it would be nice to have alphanumeric support, or the ability to have 4-16 characters for the passcode
Discussion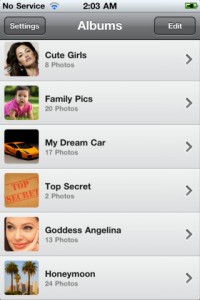 For a lot of people, a 4 digit PIN is adequate to make them feel secure. 10,000 combinations is a heck of a lot for someone to slog through manually, though a friend or loved one might be able to guess your PIN for this app if you've been foolish enough to use that same PIN for other apps or your bank ID info.
For other people, however, the 4-digit numeric PIN isn't quite enough to feel safe. This app might impress other people if you could add letters or special characters to your passcode. It all comes down to personal preference, of course. But an app that wants to help people keep secrets should have some more robust security options.
That quibble aside, the user interface here is great. It's really easy to organize photos into albums, or share images through messaging or email. Copy/paste is supported, along with slideshow creation. You can organize your private images separately from your confidential work photos or collections of celeb photos. However, if you want to store more than 16 photos, however, you'll need to upgrade to the full version.
Conclusion and download link
For some people, Don't Touch My Pics FREE is going to be perfect. It's free, it provides basic security while still allowing easy sharing of photos, and it has a great user interface. For other people, however, Don't Touch My Pics FREE lacks both the robust security and the ability to hold a great deal of photos…and that's what they crave. Since it's free, my advice is try it out, compare it against other free apps of its ilk, and see how it strikes you, personally. I liked it, but I didn't love it.
Price: Free
Version reviewed: 1.7
Supported OS: Requires iOS 4.0 or later

Download size: 5.7 MB
Don't Touch My Pics FREE on Apple App Store
Related Posts