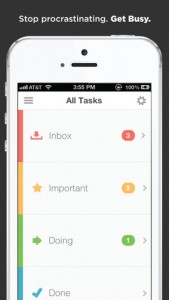 I have been, and always will be, the world's greatest procrastinator. I never turn in work late, but I could be turning it in way earlier if I wasn't constantly slipping a steady diet of YouTube videos and RSS feeds in between my various projects. Old habits die hard, and I've been procrastinating for decades. That doesn't mean I'm happy about it, of course. If you're a hardcore procrastinator like me, you might be able to break your habits with an attractive new app called, simply, Busy.
What is it and what does it do
Main Functionality
Busy aims to be a one-stop app for making users more productive and less prone to procrastination. By getting everything on your mind into a series of to-do lists, you'll always know what's next, and not use your "now what was I supposed to do next?" moments to procrastinate.
Pros
Clean, colorful design
Great for organizing a massive to-do list into manageable chunks based on importance or status
Mark items as "important," "doing," or "done." Nuff said.
Organize both your home life and your working life in one app
Cons
No sync with other apps: playing nice with email, calendar, or cloud storage apps would be a plus for Busy
Discussion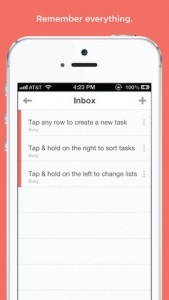 Busy's basic mindset for battling procrastination seems to be creating to-do lists, so that you constantly know what needs to be done next. I'm not sure that's at the core of a lot of procrastination behaviors, but it's a good strategy for getting stuff done nonetheless.
I lov ethe main home screen. There are just four blocks, and that's it: Inbox, Important, Doing, and Done. When your day feels overwhelming, these task lists help to make things seem less so. The controls are great as well. Tap any row to create a new task, then tap and hold if you want to move that item into a different list.
This app is great for anyone who tends to overlook big tasks, or for people who want to break down a large goal into its component tasks, in order to make steady progress to the ultimate achievement. The automated reminder to start your Most Important Task is a godsend.
Conclusion and download link
If you are the kind of person who needs to have an ever-expanding list of to-do list items to keep you focused on your work and certain areas of your personal life, Busy will help you to, well, "get busy." This app is well constructed from a UI and visual appearance standpoint, and it's really easy to see what's coming next down the pike. That being said, for such a fresh new app, there is some room for improvement. As much as I love the stripped down, simple nature of this app, integration with apps like Dropbox or Mail or Calendar would be a huge help. Even better: integrate with services like Basecamp or Huddle or Deskaway, so you can cross off to-do list items at the same time on your Busy app and on a shared project management system.
Price: Free
Version reviewed: 1.3
Supported OS: Requires iOS 5.0 or later

Download size: 8.2 MB
Related Posts