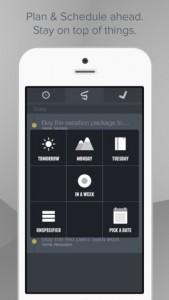 Swiper, no swiping! If you're a parent, or the eldest child of a big family, there's a good chance you've been exposed to that most odious to children's TV show characters, Swiper. The "villain" of Dora the Explorer, Swiper is pretty lame. Swipes, on the other hand, is pretty darn excellent. You may not want Swiper to be swiping up in your business, but swiping on Swipes is another matter entirely.
What is it and what does it do
Main Functionality
Swipes is a productivity app for iOS. This app allows users to organize and rank important tasks, ensuring that you focus on the most pressing items in your agenda.
Pros
GTD friendly, but also accessible for people who don't adhere to any one school of productivity/to-do list management
Easily add tags to items, and search by tag to locate relevant data
Get UI that makes it simple to see what you should be focusing on
Easily set reminders, and also review a history of your past actions with ease
Simple drag and drop controls
Cons
App does require a login, either with Facebook or email: a bummer for people who are amped to start using the app and get organized right away
App does not automatically import your Calendar data
Discussion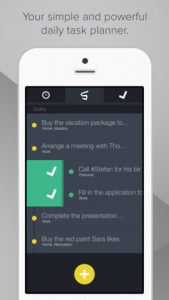 I love an app with intuitive controls, and Swipes did not disappoint in that regard. Tap to select a task, double-tap to edit. Swipe right to mark it as complete, or swipe left to schedule it for a future date.
When you swipe left, you get this great grid pop-up menu that allows you to simply add that task to the agenda for tomorrow, the following two calendar days after that, "in a week," or "unspecified." You can also pick a specific date from this same screen.
To search or filter your to-do list, just pull down on the screen. Need to review your completed items? Unlike some other to-do list apps, you can review your history easily: an item that's been "crossed off" your list doesn't just vanish into the ether, which is great for people who like to review their completed tasks at the end of the day.
For a brand new app that's yet to get an update beyond its initial release, I was pleasantly surprised at how stable Swipes was. No crashes, no lags, no buggy behavior whatsoever.
This lack of bugginess makes up for the lack of autosync between this app and your existing Calendar. For people who prefer their apps to not sync with other apps on the same device, Swipes is a good tool for scheduling events and getting organized. The UI is professional, polished, and pretty darn elegant.
Conclusion and download link
If you want to clean up your workflow and get more productive, an app like Swipes is bound to help you clear your head…and your agenda.The UI is great, and I like that this app is both GTD-friendly and accessible for non-GTD acolytes. With killer looks and a great control scheme, it's really hard to fault this newbie to the App Store scene. I'm excited to keep using this app, and see how it evolves over the coming months.
Price: Free
Version reviewed: 1.0
Supported OS: Requires iOS 5.0 or later

Download size: 8.3 MB
Related Posts