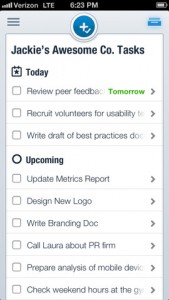 At every office job I've ever had, communications failures were to blame for the biggest problems between the staff (or between staff and their clients.) People forget how hard it is to communicate, to express oneself clearly and concisely and consistently. For those who lack amazing communication skills by nature, some of the deficit can be made up by using a good team collaboration app that keeps everyone on the same page. One such app is Asana Mobile.
What is it and what does it do
Main Functionality
Asana Mobile is an iOS application that lets teams communicate and collaborate with each other. The app allows teams to share task lists, communicate on shared projects, check due dates, and review your to-do list.
Pros
Excellent UI
Attach images and/or files to each task to clarify various to-do list items
Plays nice with the Dropbox app
Great use of push notifications and badges
Collaborate with up to 15 teammates at zero cost
Log in with your Google account credentials, or with another email address
Very stable app with no crashes or bugs presenting themselves during testing
Cons
You do need an Asana account to sign in (and that can slow down the process a bit, if you haven't already got one set up)
Dropbox is the only storage solution that's been integrated into the app, which is bad news for people who use/prefer a different service for their working lives
Discussion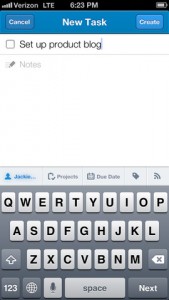 Can we just talk about how awesome the UI is here with Asana Mobile? Because it is, seriously, just the greatest. The design is sleek, clean, and professional. With a single tap to the plus sign on the home screen, you can add a new task. From that selfsame window, you can add that task to a project, manipulate the due date, and even add tags for ease of searching later on. The whole setup is just effortless.
If you haven't filled out your profile and added personal data to your account, you do get some weirdo default text at times. For example, the Asana Mobile home screen presented me with a list of "Tucker's Your Company's Name Tasks," as I failed to add some new information right from the get go.
It's amazing what a good interface can do to elevate a simple app concept. Asana Mobile boasts real-time syncing for any changes made to tasks, plus a great home menu that lets you see everything on your plate at a glance. The tag system, in particular, is quite a boon to organizing tasks effectively.
There are a few minor things here and there that I'd consider changing, but the overall app experience with Asana Mobile comes highly recommended. That being said, if you need your project management solutions to be free, and you have a team of over 15, this might not be the best solution for you.
Conclusion and download link
If you need a free solution for project management for under 15 people, you could do a lot worse than Asana Mobile. The interface is really top-notch, and it's hard to find fault with such a thoughtfully constructed bit of app technology.
Price: Free
Version reviewed: 2.41
Supported OS: Requires iOS 5.0 or later

Download size: 2.0 MB
Asana Mobile on Apple App Store
Related Posts