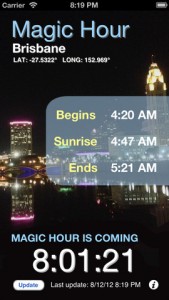 You learn something new every day. In my case, I heard the term "magic hour" for the first time on Sunday night, when I accompanied my BF and his friends to a press photo shoot for their band. The photographer scheduled the shoot for the "magic hour," that time just before and just after the sunset begins, when the light has an exceptionally luminous and sustained quality. One app that you can use to track this daily phenomenon is called, not surprisingly, Magic Hour. 
What is it and what does it do
Main Functionality
Magic Hour is an iPhone app that tracks the "magic hour," a time of day that has a great quality of light. This period is when the sun is about 6 degrees above the horizon until it is about 6 degrees below. This app is of great use to photographers, painters, or videographers who want to take advantage of the beautiful quality of this light.
Pros
Simple interface
Live countdown to when magic hour begins (countdown switches to "magic hour is now" during magic hour)
Track when magic hour starts and ends, and also note when the sun will set
App notes your precise latitude and longitude, as well as the town/city you are currently in
Hit the "update" button to get updated magic hour figures
Cons
Missed opportunity: it would be cool for the background image to be local to you, sourced from Flickr a la the Yahoo! Weather app
Speaking of weather, it would be really nice if there was a weather icon here, the better to determine the quality of the light
No way to input the zip code or GPS coordinates of a place you're traveling to later tonight to anticipate the local magic hour duration there: app works with current location only
Discussion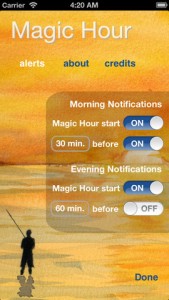 Magic Hour has a very simple interface that allows you to get all kinds of helpful light information at a glance. You can see the time when "magic hour" begins and ends, along with the precise time that sunset will take place. You can set in-app notifications to alert you at magic hour start time, or 60 minutes prior to that time.
Speaking of weather, it would be really nice if there was a weather icon within the app. This would help determine if the quality of light would be changing during the magic hour: cloud cover or rain could make the "magic" light look a little bit ho-hum.
I was also pretty bummed that you can't add a ZIP code to determine when the magic hour will begin in a nearby city or town, or for a city in a different time zone that you plan to fly out to later that same day. Still, I do like that you can set notifications so that you can get some advance warning before magic hour begins.
Overall, this app works well. The timers and countdowns all work perfectly, and the interface is simple to take in at a glance. There are some limitations, but overall this app does exactly what it set out to do.
Conclusion and download link
If you're a photographer or visual artist, this is an invaluable tool. It's free, simple to use, and helps you make your work look great. Despite some limitations, this app is a great tool to take your art to the next level. Or you know, just keep an eye on when it's going to be completely dark outside.
Price: Free
Version reviewed: 1.3
Supported OS: Requires iOS 5.0 or later

Download size: 13.8 MB
Related Posts