When it comes to networking for business, LinkedIn is generally considered to be the go-to service. But LinkedIn doesn't always help you stay in touch as well as it might. A clever app called Here On Biz uses your LinkedIn credentials to help you better connect with colleagues and business acquaintances on the go.
What is it and what does it do
Main Functionality
Here On Biz is an iOS tool that uses your LinkedIn contacts to apprise you of potential opportunities to meet up in real life. If you and a friend are both in town on business, this app will help you two to connect.
Pros
Simple to use
Breaks down your contacts into "everyone," "visitors," and "locals"
Send messages from within the app, and check in at events
Low impact on your battery life, even while the app works constantly to keep you apprised of potential meet-ups
No need to check in or manually set your location
See the activity of people you monitor with ease
Arrivals are announced on LinkedIn automatically, letting even people who don't use Here On Biz know that you are in town
Cons
Only works with LinkedIn login credentials: you can't log in with Facebook or any other social network
For best results, the people in your circle need to be using both LinkedIn and Here On Biz
Discussion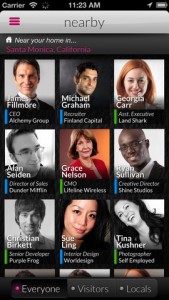 Here On Biz has a lot of good things going for it. First and foremost, the interface is very attractive. Easy to navigate and packed with tons of info about the people you want to monitor, Here On Biz is way more attractive (IMHO) than any LinkedIn interface.
It's easy to see who is in your area, with your entire contact list being able to be sorted into "everyone," "visitors," or "locals." I really like that you don't need to check in to certain locations in a town or city to get other people to notice you, though of course you do need to check in to events.
This app works as both a communication tool and a networking tool. You can send messages within the app and set up meetings with people, or just reach out and say hello. Growing your business is often about networking, and this app makes it easier to notice when people you want to connect with are nearby.
Getting started is easy. The whole process basically boils down to four steps. Sign in with your LinkedIn credentials, invite your contacts to use Here On Biz along with you, and you'll automatically get alerts when your business colleagues are traveling near you. People you are connected with via LinkedIn will also let you see their connections, allowing you to browse outside of your direct network and meet new people.
Conclusion and download link
If you want to make the most of business trips, layovers, or even personal vacations, Here On Biz is a great tool to augment your LinkedIn account. This app is easy to browse, packed with tons of info, and generally fun to use. Putting a face to a name (or an account) has never been easier.
Price: Free
Version reviewed: 2.2.1
Supported OS: Requires iOS 4.3 or later

Download size: 12.9 MB
Here On Biz on Apple App Store
Related Posts