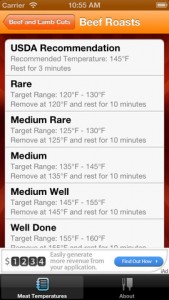 August is almost here, which means that many folks only have one or two months left in grilling season. If you're the kind of person who relishes the chance to throw a little backyard BBQ party, you've probably encountered a few situations where you wondered if a certain burger or piece of meat was cooked enough. A handy pocket reference that can help home cooks and grill-masters alike is MeatTemps.
What is it and what does it do
Main Functionality
MeatTemps is a listing of USDA and chef-recommended guidelines for the proper temperatures meat and seafood should be cooked to. MeatTemps was developed by the same time that brought you the Grill-It! grilling recipes app.
Pros
Eeasy to navigate
Supports both Fahrenheit and Celsius
Provides both USDA guidelines for correct meat temps, as well as the more gourmet temps preferred by chefs and some home cooks
Teaches users about what temp meat should be cooked to, and how long it should be allowed to rest before being served
Cons
Banner ads sometimes obscure text you want to read
No visual aids
Discussion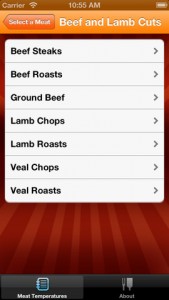 Before using this app, you need to review the following consumer advisory, which I'll record here as a good reminder of food safety practices: "Consuming raw or undercooked meat increases your risk of contracting a foodborne illness. We include both the USDA recommended temperatures, as well as our preferred temperatures for certain cuts of meat. Following the USDA recommendations lowers your risk of illness." Once you've tapped "I understand," you can access the app in all it's meaty glory.
One complaint I have about this app is the lack of pictures. While it is important to use a thermometer to determine a proper cook on a piece of meat, I think it would have been a really nice touch to include images of what the same piece of meat looks like a different temps. Being able to have a visual reference for what a medium rare steak looks like as opposed to a rare steak would be very helpful.
A guide to determining doneness for steaks without a thermometer would also be nice. Alongside that, a guide on how to properly use a meat thermometer might be nice. Plenty of novice cooks would appreciate hints about proper cleaning of a thermometer, how deep to stick the thermometer in, and whether it's okay if your probe touches a bone when taking a temp.
As a pocket reference, MeatTemps is attractive, simple to navigate, and packed with good information from both a flavor and health standpoint.
Conclusion and download link
If you need a handy reference for grilling this summer, this simple app can help you to cook meat to a safe temperature for your guests. While it could certainly stand to be fleshed out a bit, overall, this is a solid reference app that's easy to navigate.
Price: Free
Version reviewed: 2.0
Supported OS: Requires iOS 4.3 or later

Download size: 0.9 MB
Related Posts