Have you ever wondered how much total time you spend at your computer every day? How about in a month's time? Have you ever wondered the same about your kids or your spouse? Work Time Monitor is an incredibly lightweight and free tool for Windows that tracks time spent on the machine in question.
What is it and what does it do
Main Functionality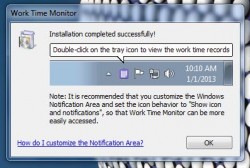 Work Time Monitor is a freeware utility for Windows that allows you to track the total time spent on a computer. It keeps track of both the time that you're active on the offending machine and the time that it sits idle. There are many reasons to track your time, the most obvious being work related. It's also just a great way to take a peek at your monthly usage.
Pros
Monitors daily and monthly usage statistics
Logs all information in a text file
You can customize how and when the data is collected
Extremely lightweight
Cons
Doesn't provide any details as to what is done on the computer (e.g. won't tell you what programs or files were opened) — just tells that the computer is being used
Discussion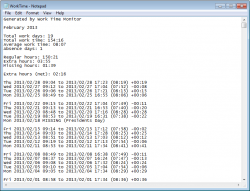 Surprisingly, Work Time Monitor is not a portable application which means you need to install it first in order to use it. It's a tiny application in terms of size, the install package is a mere 0.5MB!
After being installed the application runs quietly in the background. It makes sense since it's designed to log activity and time spent on the computer. It's accessible through an icon that sits in the system tray. It uses less than 7MB of RAM while running which means it's remarkably lightweight.
It generates a text based log, which can be viewed by double clicking on the system tray icon, or by right clicking and selecting the "view log" option. Any activity continues to be logged until the work day is over. In the application settings you can customize the parameters which decide the end of the work day, but by default it's determined when the computer is idle for more than 7 hours.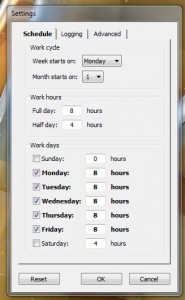 In the application settings, you can configure the logging schedule which determines what days the application will collect data, and also for how long. For example, the default full day is considered to be eight hours, while the default half day is considered to be four hours. Work days are already set for Monday through Friday, with eight hours scheduled for every day except the weekend, of course.
You can also configure what information is recorded in the log, such as monthly work time, or monthly regular hours and even extra hours. You can also tell the app to ignore the missing hours on extra days like the weekend, when you might use the computer for recreation.
Advanced settings allow you to configure the idle and active time frames, as well as how often the application checks for activity. By default, Work Time Monitor continues to check every minute.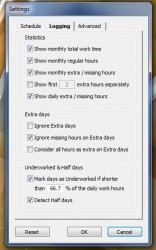 The log itself just includes the month and year along with the following information:
Total work days
Total work time
Average work time
Regular hours
Extra hours
Missing hours
Extra hours (net)
As it logs information and closes out each day, the log will tally up how many hours you spent per day on the computer. In addition, it will highlight the time different between the current day and the day before. This is hardly necessary, but it's definitely a great comparison feature.
This app is a great way to figure out how much you, or someone else, is using your computer.
Conclusion and download link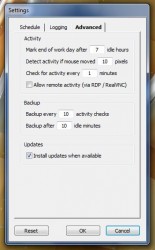 Work Time Monitor is an incredibly lightweight monitoring tool that runs in the background and logs system usage. It records all information in a single text log, which you can view at any time. The idea is to allow you to track how much your using your computer on a monthly basis. Of course, you can also use it to monitor others, like children or a spouse- if you want to get yourself in trouble (little jest there). Most of the settings are fully configurable, which means you can directly alter how and when the information is collected if you so desire. If you want to know just how much you use your computer, then check it out.
Do take note, however, that Work Time Monitor won't let you track computer activity (i.e. won't tell you what programs or files were used, for how long, etc.) If you need that sort of functionality, then check out ManicTime.
Price: Free
Version reviewed: 1.02
Supported OS: Windows 8/7/Vista/XP
Download size: 474KB
VirusTotal malware scan results: 0/41
Is it portable? No
Related Posts