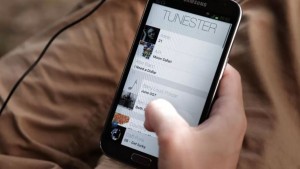 There's no shortage of audio/music players for Android, or in Google Play. For that matter, there's no shortage of minimal style players. This next application is probably one of the most minimal you'll ever have the pleasure of using. That's the idea behind Tunester, an audio player for Android that is specifically tailored for speed and ease of use.
What is it and what does it do
Main Functionality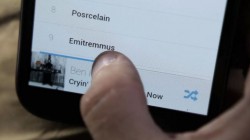 Tunester is a minimal and elegant audio player for Android with a particular emphasis on ease of use. Everything has been stripped down in terms of features, and you're left with just a list of your tracks and the player itself. That's not a bad thing at all, especially on a mobile device where fewer resources means longer battery life and usage time… all while enjoying all your audio files.
Pros
Remarkably minimal and simple audio/music player app
Automatically scans the device on initial startup and adds audio files to the library
Includes support for gesture controls and similar interactions
Uses a reasonable amount of system resources, 20MB of RAM while running
Cons
During the initial scan it will pickup any and all audio files on the device, ringtones included, and there's no way to remove them
Discussion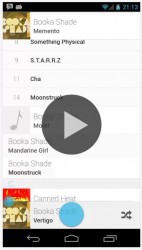 It's worth noting right here and now that when I say this application is minimal, I really do mean minimal. Most of the normal features you would find in other audio players have been removed. There is no support for playlists, no audio equalizer, no visualization effects, and no audio categorization. That means you cannot browse content by artist, albums or genres. All you have at your fingertips is a list of your local music, and the audio player itself. If that's not something that appeals to you, then you should try another audio player.
The simplistic nature of Tunester is also where most of its novelty comes from. It's actually quite difficult to find an app like this, that just leaves you to your music and that's it. For some, it might be a downside that you have to organize your content beforehand, but for others the minimal design will be a boon.
After you launch the app for the first time, it will take you through a series of introductory tutorial slides that walk you through using the app. Quite frankly, the instructions aren't necessary at all especially since Tunester is incredibly easy to use.
Right away it will scan your device for music and populate a streamlined list with available content. Most audio players will take you to a separate screen for now playing audio, but Tunester does not. When you tap a song to begin playback the information appears inline, right on the same screen as that of the audio list. Almost like what you'd find in the stock Google Play app, the song title, artist and album art are displayed in a bottom menu.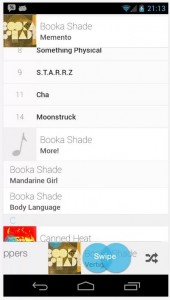 If you tap on the album art it will pull up a now playing screen, and the album art will consume most of the screen. Again, it truly reminds me of the stock Google Play app.
One of the most convenient features is that you can use gestures to perform various actions. For example, there are no previous or next track buttons in the bottom now playing menu, so to change tracks you can just swipe left or right. If you hold down on the same now playing bar, it will show any songs in your library that are from the same album. You can also press and hold on any song in the list to add it to the now playing queue.
Unfortunately, one issue that I came across concerns the auto track recognition feature. On my device, I have quite a few ringtones and odd sounds stored from apps. The Google Hangouts app, for example, comes bundled with a pretty remarkable collection of ringtones. The problem is that those tones are also recognized by Tunester during the initial scan. As far as I can tell there's no way to remove them from your library. That means your library will be littered with similar entries if you have ringtones installed on your device.
For reference, Tunester uses 20MB of RAM while running. That means it's not entirely lightweight, but it's not a resource hog either.
Conclusion and download link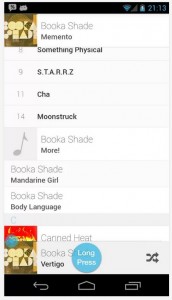 Tunester is a remarkably minimal and elegant audio player for Android. As I've clearly outlined in the review, the main selling point here is its incredibly simplistic design. There are no playlists to mess with, no advanced settings to configure. Instead, it's just you and your locally stored audio files (music, podcasts, lectures, etc.). Unfortunately, all locally stored audio files are added to the library which includes ringtones and minor audio tracks — stuff you may not necessarily want to see. Still, it's hard to deny the appealing interface and the unique mechanics. You can even use simple gestures and interactions to control various functions. To top it off, it isn't too heavy on system resources for being an audio player. If you're looking for a totally simple audio player — without all the bells and whistles — that just works, then this one is a decent option. Check it out.
Price: Free
Version reviewed: 1.0
Requires: Android 2.2 and up
Download size: 3.5MB
Related Posts