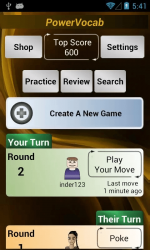 One of the best ways to improve your English vocabulary is to play an exciting word game. This could be a word guessing game or a simple game that lets you find the correct meaning of a word as you compete against other players. Speaking of which, PowerVocab is not only a fun word game – it also has a built-in dictionary that you can use everyday.
What Is It and What Does It Do
Main Functionality
PowerVocab is a free word game for Android that has a built-in dictionary and word reviewer. It is created and developed by Trymph Inc. and it is ideal for non-English speakers who are trying to improve their English skills. With this simple application, you can play a game that is presented like a multiple-choice questionnaire. You can also use this app to search for unfamiliar English words.
Pros
Fun and easy to use
You can login as guest or as a registered user
Features "word packs" of various difficulty levels
You can play games against other live players – it's either you choose your opponent or you let the game choose a random player
You can play as a single-player – In this game mode, you are only given a minute and thirty seconds to answer as many questions as you can.
You can use your game reward coins to purchase a new avatar
Has a built-in dictionary that lets you learn the meaning of a particular English word. This app will also teach you how to properly pronounce a word as you refer to its list examples.
If you want to learn a new word daily, you can use this app to Practice, Review and Search. The "Practice" option will let you learn a new word or two and if you want refresh your mind about the words that you have previously learned, select the option for "Review". If you want to search for a specific word, use "Search".
You can view your overall learning statistics including your top score
Works offline – doesn't need internet connection
Cons
Poorly designed user interface
Only the "Fun Words Pack" is free. The rest of the word packs must be purchased separately.
The player-against-player feature lacks the needed amount of live players so don't be surprised if you end playing alone.
The user avatars aren't well-drawn; you won't feel inspired to spend your hard-earned coins on those poorly-drawn characters
You cannot adjust the time limit for the single-player game mode
Discussion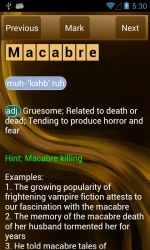 The PowerVocab is a very useful application that takes a fun approach to learning new English words. It's not just a pure word game but it also functions as a portable dictionary app. It's just that it doesn't look very attractive which is a great downer especially when you are trying to capture the interest of young learners. I actually see a lot of potential for this app but it will definitely be difficult to encourage a grade-schooler to learn English by using a visually unattractive game. Regardless of the age group, any user would find this app too plain-looking. It would be much more fun to use if this app has nicely-designed graphics and buttons. Even the avatars don't look appealing. You just won't feel inspired to use your precious coins on these poorly drawn characters.
The app's UI may not be that attractive but if you can manage to set that factor aside, you will definitely appreciate the wonders that this app can do. Most importantly, this app has features that go beyond playing a simple word game. You can also use it to learn new words on a regular basis and if you're diligent enough, you can learn at least five to ten English words daily. Anyways, let's talk about the app's gaming aspect first.
To play PowerVocab, you start by pressing the "Create a New Game Button". After which, the app will ask you if you want to play against your friends on Facebook or if you want a random match against any player. You can also opt to have a match against your previous opponents. If you have a particular player in mind, you can select "Play by Username". If no one else is available to play or if you simply want to go solo, you are also allowed to play as a "Single Player".
The mechanics for playing as a single-player is simple. You are given one minute and thirty seconds to answer a multiple-choice questionnaire. Every question is all about English words and you have to select the correct the meaning of the word before you can proceed to the next question. You can also make use of hints but you still need to provide the correct answer. You'll earn points for every question that you can answer correctly. Apparently, your total score will be based on the number of questions that you can answer correctly. The higher your score is – the better. It's just a bummer that you can't adjust or change the time limit.
Meanwhile, the game's Player-against-Player mode follows the same mechanics as the single-player mode but the difference is that you're playing against another player. This mode consists of three rounds and your goal is to win each round to earn lots of coins. The coins that you'll earn can be used to purchase a new avatar. The only disadvantage to this feature is that it's difficult to find an opponent because the app doesn't have a lot of live players.
If you do not want to play a game, you can still use the app to learn some new English words. As a matter of fact, PowerVocab features three main tools for learning English. There's Practice, Review and Search. The functions of each tool are listed below:
Practice – This tool or section is intended for learning new English words. The app will randomly show a word on your screen so you will be able to learn that word's correct pronunciation and meaning. The app will also provide you with a list of examples.
Review – In this section, you can review the words that you've previously learned. This is good for refreshing your memory about those words that you rarely use or encounter.
Search – This is the app's built-in dictionary tool. You can go to this section to search for a particular word.
Conclusion and Download Link
Despite its poor UI, I still like this app/game because it is very useful and it works well. I also like the fact that PowerVocab has a built-in dictionary tool. If given the right modifications and graphic enhancements, this app could be a valuable tool for English learners. I recommend that you try this app if you need help learning the English language, especially if you're planning to take an English evaluation test such as IELTS or TOEFL.
Price: Free
Version reviewed: 4.20
Requires: Varies per device
Download size: Varies per device
PowerVocab Vocabulary Word App on Play Store
Related Posts