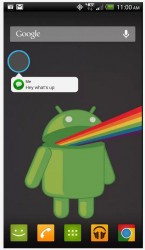 I've covered apps here at dotTech before that offer Facebook Chat-head type notifications for Android, like Floating Notifications. The aforementioned app requires root access on the related device in order to use it properly. Another project called Paranoid Android adds the same type of functionality which has been dubbed Halo, unfortunately that is offered in a custom ROM which must be flashed to particular devices in order to use properly. That means, if you want to benefit from the chat-head like notifications on your device you'll either need to have root access, or flash a custom ROM. Portal (Floating Apps) is an application for Android that aims to offer that functionality to non-rooted devices.
What is it and what does it do
Main Functionality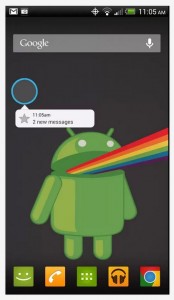 Portal (Floating Apps) adds chat-head like notifications to Android, but it also adds quick access to various functions and shortcuts. You can post social status updates, open a browser window, send a text message, and more. It basically adds a floating notification orb that displays the most recent app and message updates. Interacting with it will bring up several shortcuts to a couple most used apps.
Pros
Chat-head like notifications
Quick access to text messaging, Facebook, Twitter, and web browser
Notifications and apps stay on top of all other windows
Uses only 6MB of RAM which is remarkably lightweight
Cons
Requires Android 3.0 and higher
There are advertisements displayed at the bottom of the about screen, and every now and then in a notification (can be removed for $1.49)
Discussion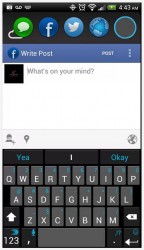 Because I've discussed the purpose of Facebook Chat-head notifications before, I'm not going to spend much time doing so now. If you'd like to know a little more about them feel free to read my previous review of Floating Notifications, which makes use of the same functionality.
As with other apps that handle notifications, you have to enable Portal in the Android accessibility menu from within the stock settings. The first time you run the application you will automatically be prompted to do so, and if you accept you will be taken to the proper menu.
Right when you start the application it will add a notification orb to the screen. The orb remains on top of all other windows and apps, including fullscreen games or media players. The central purpose of the icon is to display the most recent system notifications associated with all types of apps and functions. Hopefully, I don't have to point out what a notification is on a smartphone.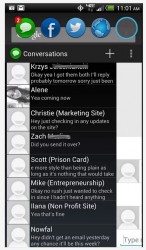 The icon itself can be moved around the screen by pressing and holding, then dragging your finger to the location where you would like the icon to remain. Double tapping on the icon will dismiss the orb and any related notifications.
If you tap on the orb, it will slide to the very top portion of the screen and open several actions. From left to right those actions include sending and browsing text messages, posting a status update to Facebook, posting a Tweet, and browsing the internet. The related actions open in a small window underneath the bar of notification orbs, which use the Halo Android theme. For example, when tapping on text messaging it opens threaded messages in a small window. Swiping from left to right while browsing the most recent messages, will open a side menu that allows you to choose alternate threads. Essentially, it works just like a mini version of the stock messaging app.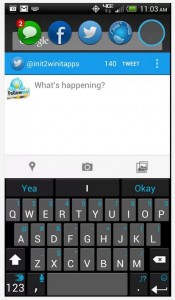 The beauty of the extra shortcuts is that if you leave the notification orb on the screen, you always have access to the related functions. That means, even while playing a game or watching a YouTube video you can quickly sidetrack and post status updates, or answer messages.
The best part is that Portal uses very few system resources, taking up just 6MB of RAM while running. That's incredibly important since this is an app you'll have running in the background continuously.
The one thing missing is that there's little customization when it comes to the notifications and the app. That being said, it's a problem you kind of have to swallow considering the app doesn't require root access.
Conclusion and download link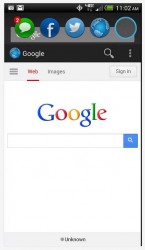 Portal (Floating Apps) is an Android application that adds Chat-head like notifications to Android smartphones and tablets In addition, it also offers quick access to several apps including text messaging, Facebook, Twitter, and the web browser. The notification and app orbs stay on top of all other windows including fullscreen games and media players. That's the point to using this app, you always have access to the notifications and the convenient shortcuts. Better yet, it uses only 6MB of RAM which is remarkably light for an app of this caliber. It doesn't require root access to use properly either, but you will have to enable Portal in the accessibility menu. Check it out if you want Chat-head like functionality.
Price: Free, $1.49 (remove ads)
Version reviewed: 1.2
Requires: Android 3.0 and up
Download size: 3.5MB
Portal (Floating Apps) on Play Store
Related Posts