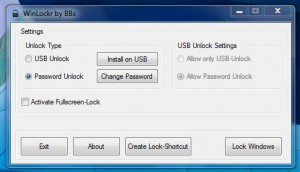 While the default logon screen for Windows certainly gets the job done, it leaves a little something to be desired when it comes to security. A locked system can still be shutdown or rebooted, and there's no record of failed logon attempts. WinLockr is a Windows application that will enhance the lockscreen by adding some new functionality and security features.
What is it and what does it do
Main Functionality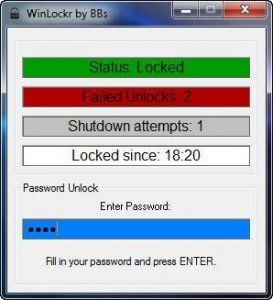 WinLockr is a free Windows application that enhances the lockscreen. It keeps track of any failed logon attempts including power state changes, which are directly prevented by the app (of course, it cannot protect from a power failure). It also blocks all input from key presses excluding those necessary to enter a logon password. Long story short, it's a lot more secure than the stock Windows lockscreen.
Pros
Replaces the stock Windows logon/lockscreen with one that has more security and that implements additional features
You can enable a password unlock or a USB unlock, which unlocks the computer once a USB drive or device has been plugged in
Is able to block shutdown/restart/log off, so people can't circumvent the lock
Is able to lock mouse/keyboard, only leaving the keys active that you need to enter your password
Can create a lock shortcut which is placed on your desktop, on any other location, can be pinned to taskbar, etc. Running this shortcut enables WinLockr's computer lock
The default lockscreen just displays a status window and still shows the desktop, however you can activate a fullscreen lock if desired
Requires very few system resources, at just 4MB of RAM usage
Cons
VirusTotal returned 2/45 potentially harmful flags, "W32/GenBl.E432CE9E!Olympus" from Commtouch and "WS.Reputation.1" from Symantec. Additional scans with Microsoft Security Essentials and MalwareBytes Antimalware returned nothing. The flags are likely false positives due to the nature of the application, but proceed with caution.
Replaces Windows logon/lockscreen, which is a good thing in that it adds a lockscreen with more features. However, it is a bad thing in terms of user-friendliness because now you cannot use regular methods of locking your computer, such as pressing the sleep button
No way to use hotkeys to lock your computer nor is there an ability to automatically lock your computer after X seconds or minutes of idle time — you must manually run the lock shortcut or click the Lock Windows button every time you want to lock your computer with WinLockr
Hasn't since Feb 2012, meaning development is probably dead
Discussion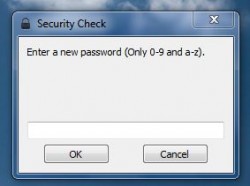 WinLockr is a portable app, in that after you have downloaded the executable you can run it immediately. You do not need to install the application before using it. It works just fine when stored on an external USB drive.
As soon as you launch the application it will prompt for a new password. Then, it will prompt you to reenter your password to ensure it was correctly typed the first time. Since it's the primary password used for the new logon features and lockscreen, it's important that the password be remembered.
After you have entered the password you will be returned to the main interface for WinLockr. It's remarkably simple and straightforward, considering each dialogue option needs little explanation.
One of the most interesting features is the option to install security measure on a USB drive. You can choose between either USB or password unlock methods. Essentially, with the USB unlock the computer remains locked until you plug in the affected drive or device. It's pretty useful and efficient if you don't want to bother with the traditional password entry measures.
Normally when locking the machine you can still see the desktop and any open windows are minimized. This is completely different than the Windows logon which masks the entire display with a new logon screen. However, you can enable a fullscreen lock feature which does the same as the stock logon if you'd much rather mask the system altogether.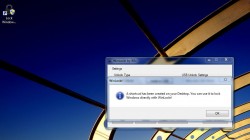 The only way to lock the screen with WinLockr is to use the native button in the app interface. If this is not convenient, you can add a desktop shortcut which quickly locks the machine.
After unlocking the computer the application will automatically shutdown. Every time you start it back up again, it will prompt you to enter your password- the same that you specified during the first run. If you need to, you can change the password at any time through the application interface with a related dialogue button.
WinLockr uses just over 4MB of RAM while running, so it's relatively lightweight.
Conclusion and download link
WinLockr is a free and portable Windows application that replaces the stock lockscreen on Windows. More specifically, it implements several more advanced security measures than what Windows logon has. In addition to recording any failed logon attempts, it prevents the use of all keys that are not necessary in entering a password. For example, the print screen key doesn't even work to take a screenshot while the system is locked.
By default, the lockscreen just displays a small status window and the rest of the system desktop is clearly visible. If you're uncomfortable with that, you can always enable the fullscreen lock feature.
WinLockr uses very few system resources — just over 4MB of RAM is consumed while it's running — and it is portable. If you're looking for an alternative lockscreen solution, which records failed login attempts and has a small resource footprint, WinLockr is a good option.
Price: Free
Version reviewed: 1.3
Supported OS: Windows 8/7/Vista/XP
Download size: 363KB
VirusTotal malware scan results: 2/45
Is it portable? Yes
Related Posts