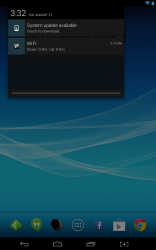 No matter what type of mobile device you use most, whether it be a smartphone or a tablet you're likely using some type of network connection. While you can see total data usage after the fact, you can't exactly monitor when data is being used- at least not with any of the stock settings or apps. Network Speed is a very simple application that adds notifications to the Android tray which display network usage information.
What is it and what does it do
Main Functionality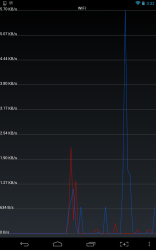 Network Speed is a very simple application, and there's actually not much to it. That's okay though because it's incredibly useful. It adds an icon to the Android notification tray that displays network usage stats. More specifically you can see realtime network updates for a mobile, GPRS or Wi-Fi connection.
Pros
Displays download and upload speeds for active network connection
Keeps track of total data usage and displays daily and monthly ratings
You can start the application at boot, this produces more accurate total usage measurements
Relatively small footprint, 43KB download size and 10MB of RAM usage
Cons
It's no longer supported, hasn't been updated since April, 2012
Can't display per-app data usage
Discussion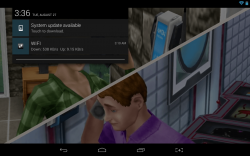 The very first thing I'm going to note because this is going to be a big turn off for some people, is that the application no longer appears to be supported. The last update to the app was made in April, 2012 which leads me to believe we won't see any updates soon. The app works fine as-is, but if you're looking for something that's a little more modern in terms of features and design you'll have to go elsewhere.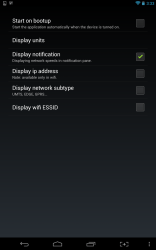 After installing the application and starting it for the first time it automatically adds an icon to the notification tray. The app automatically recognizes the active connection and displays related information in the notification. It flashes to let you know there's activity, whether that be download or upload. That's what the app shows, both the download and upload speeds of the current connection.
If you tap on the notification, it will bring you to the detailed graph view for the related connection.  It displays download and upload speeds in a short-term history chart. It works like the stock Android data tracker, only it's a bit more expansive.
While on the graph screen you can change the application settings, which basically allows you to enable or disable various elements of the notification. For example, you can display the IP address for a Wi-Fi connection or you can display the network subtype. Of course, other options exist like displaying the Wi-Fi SSID, and the option to change the units of measurement.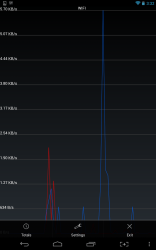 You can opt to boot the application with the device so it runs automatically during startup. If this is done, the data totals information can be calculated more accurately. You can access the totals menu through the settings. It displays the daily and monthly data usage totals separated by connection.
It's a great app for measuring data usage, and if used in conjunction with NetLive, you could potentially have a trove of personal data information.
Network Speed uses about 10MB of RAM while running, so it's not exactly super light on resources but it's certainly not going to cause any performance issues either.
Conclusion and download link
Network Speed is an Android application that allows you to see data usage stats for various different types of connections right in your notification tray. The app itself hasn't been updated since April, 2012 so it's no longer supported, but it works perfectly fine as-is. Additionally, it uses merely 10MB of RAM while running, so it's not bad on resources either. If you're looking for a simple way to measure your data usage across various connections, this app is a worthy solution.
Price: Free
Version reviewed: 1.51
Requires: Android 1.5 and up
Download size: 43KB
Related Posts