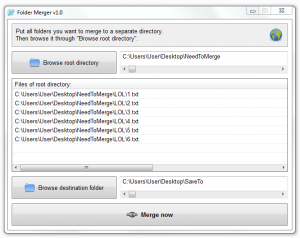 Merging folders is not really that difficult to do especially if you are just dealing with folders that are located in the same directory. However, there are certain instances wherein you have to merge folders from a different directory to another. This could become too bothersome especially if you are going to merge a lot of files. In this case, you may use a reliable file management tool like Folder Merger.
What Is It and What Does It Do
Main Functionality
Right now, you might be wondering what can a simple tool like Folder Merger can do. Well, it basically does one thing – it merges your folders so that you can put them into a single folder or a single local directory. It's basically a free application for Windows that is created and developed by 2xDSoft. With this tool, you can save a lot of time since you don't need to manually search for the files that you need to copy or move to a different location.
Pros
Simple and user-friendly UI
Merges all the files that you've stored on your root directory to a separate directory
Very fast – merges multiple files in just a matter of seconds and in just a single-click
You are free to browse and select a particular sub-folder that you want to copy into a different folder or file location
Leaves the original copy of your files so you still have time to decide if you want to keep the original files in the root directory or not
You can directly create a new folder and set it as your destination folder
Cons
There are certain tools and options that are missing such as the refresh button, the ability to only select specific files, the ability to delete or rename folders after merge, etc.
You can only copy the files that you've stored on your root directory – you cannot copy files in sub-folders
There is no way for you to preview the files or documents that you've stored on your folders
Discussion
First of all, Folder Merger is said to merge separate folders into a single local directory or folder. Therefore, it will not fully delete the files that you've merged into a separate directory or folder. It will only copy those files and it will keep the original files so it's up to you if you want to delete these files or not.
When using this app, all you need to do is to think of its three basic commands. First, you need to select the files that you want to move and then you select your destination folder. Once everything is set, you can simply click the "Merge Now" button and the software will do the rest of the work.
So for example, if you want to move the files from Folder A to Folder B. You simply follow the above-mentioned steps and this simple file management tool will automatically merge the files that you have on Folder A into Folder B. It's just that by merging your files, all of your sub-folders will be disregarded. Other than this, you are also not allowed to select the files that you want to merge.
Just like in the above stated example, if Folder A has two sub-folders and each sub-folder has two text files, all of these files will be transferred into one folder. This means that Folder B will have four text files without the sub-folders. In certain cases, this could be a good thing but it would be really nice if this tool has the option for keeping the sub-folders.
Another thing that I dislike about this app is that it does not allow its users to preview the documents or files that were stored in the folders. Therefore, if you want to re-check the contents of a specific file, you need to do it the traditional way. That is, you have to go to the file explorer to search for that file. This is quite inconvenient especially if you are trying to merge media files such as photos.
Nonetheless, I still find some great applications for this tool but it does have drawbacks.
Conclusion and Download Link
Folder Merger is an OK program. It works and does what it claims to do but the biggest issue I have is it only copies over files in the root directory — it won't copy over files in sub-folders. If you can live with that limitation, then check out Folder Merger. If not, then skip out on this one.
Price: Free
Version reviewed: 1.0
Supported OS: Windows XP, Vista, Windows7 and 8
Download size: 453KB
VirusTotal malware scan results: 1/47
Is it portable? No
Related Posts