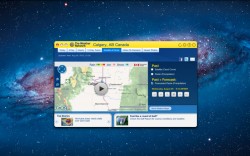 I must just live in a weird part of the country, from a meteorological perspective. I usually juggle two or three weather apps to get an idea of what the weather is actually going to do, because relying on just one app usually ends in me being disappointed. In my hunt for a new weather app for my Mac that would give me simple readings and a more accurate forecast, I decided to check out The Weather Network. Even though it has Canadian roots, this app works for both US and Canadian residents.
What is it and what does it do
Main Functionality
The Weather Network is a Mac App for retrieving weather forecast data for your area. Temps, heat index, current conditions, wind, precipitation, and humidity are all displayed in the app.
Pros
Designed to work for both Canadian and US users
Display results in French or English
Supports both metric and imperial units
Customize the app to open at login, always be on top, or hide after a certain amount of time has passed
Lives right in your menu bar so you don't have to open another window or widget to get current temps
Cons
App hasn't been updated since 2012
App did not get my location precisely right, giving me details of the next town over when I entered my ZIP (app advertises weather info as close as 1km/0.6 miles). Other users have complained about this issue as well, with one user review on the App Store noting that the app couldn't find Chicago of all places.
Connection does need to be refreshed on occasion when the menu bar icon goes gray
Discussion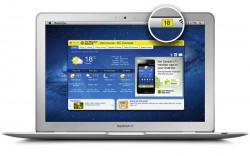 Once you have it installed, the Weather Network keeps a yellow icon in your menu bar with the current temperature. Tap this icon, and a window will pop up with more information. You will get readings for today and tomorrow from the main screen, broken into day and evening predictions. Temps, heat index, current conditions, wind, precipitation, and humidity are all displayed as well.
From this main window, you can also access 5-day forecasts, 14-day trends, and hour-by-hour predictions for the current day. The app also includes satellite and radar, weather-related videos, and photos submitted by users.
I really like having the temp displayed constantly in my menu bar, and the app offers pretty much every scale of forecast that I could want, along with some other nice perks like photos and videos.
That being said, the imprecise nature of location is kind of disappointing. Considering the fact that you can enter your ZIP code, you should be able to get fairly precise location data. It's not far off, but I do wish it was more precise.
Conclusion and download link
Overall, I was quite pleased with The Weather Network, and it will probably be a permanent addition to my Mac's landscape, though it won't replace my current weather widget. If you're looking for a menu bar temperature icon and an app that can augment your current weather app choices, this app is worth checking out…particularly if you are only interested in free weather apps.
Price: Free
Version reviewed: 2.0.19
Supported OS: OS X 10.6 or later

Download size: 1.3 MB
The Weather Network on Apple App Store
Related Posts