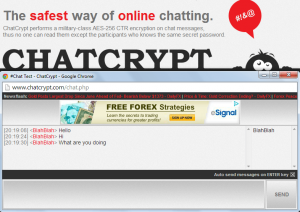 Nowadays, there's no guarantee that your online chats won't be monitored. Who knows? There might be someone who is secretly tracking your daily online conversations. If you value your privacy, it would be best for you not to disclose any personal information especially if you're chatting on public chat rooms and website chat boxes. Apart from this, you can also make use of this secure web chat app called ChatCrypt.
What is it and what does it do
Main Functionality
What is ChatCrypt? It is a simple web chat application that lets you chat privately. Unlike those commonly used web chat boxes, this web app features a military-grade AES-256 CTR encryption. In other words, this app will encrypt your chat messages so that no other people can take a peek of your conversations except for those who have the permission to do so. Furthermore, a password is required in every chat room so you can chat without exposing your private conversations to other people.
Pros
Simple and straightforward user interface, easy to use
Lightweight, no software installation required
Web-based – you can easily chat using your web browser
High level security – encrypts your chat messages with AES-256 CTR military-grade encryption
Prompts its users to use a complex password
The chat window can be resized according to your liking
Also provides an embeddable chat room for website and blog owners
The encrypted form of the chat messages will only be stored in the ChatCrypt server for 10 seconds
Cons
Is a separate chat platform in and of itself — you can't use it with your other chat platforms you may already use
You can only send and receive text messages – you cannot add emoticons, you cannot attach files, photos and videos
Lack of formatting tools for typing messages – you cannot even change the font size and color
You need to invite your participants manually
Discussion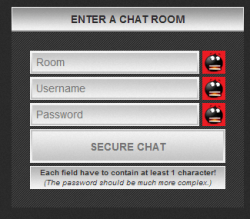 As expected, the ChatCrypt web app only does what it is intended to do so you cannot really expect it to have a lot of fancy tools and features. Its main aim is to secure your chat messages so it values your privacy more than anything.
Furthermore, this web app takes a very simple and straightforward approach to online chatting. When you go to its website (kindly refer to the link below), just look for its "Enter a Chat Room" section and then you fill in the required information. You will know if the details that you have provided have successfully passed the web app's standards because the emoticons will show a happier expression. Do take note that the chat room name as well as the password must be the same for all participants. The username, however, varies per participant so you can freely choose your desired username. As for the password, always make sure that it contains more than eight characters and it should be a combination of numbers, symbols, uppercase and lowercase letters.
Remember, your password or passphrase is the most essential key to your chat room's privacy. This means that you cannot just relay your password to anybody and if possible, give the password to your contacts personally. Once everything is set, click the "secure chat" button and wait until the ChatCrypt chat window appears on your screen. Once you see the chat window, you can start sending messages to your participants and that's it. Simply close the chat window as soon as you're done.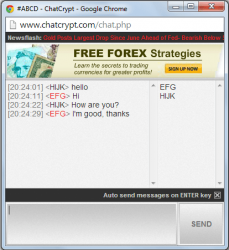 What I like about this web app is of course, its advanced military-grade encryption which is said to encrypt the chat messages rather than just providing a secure connection. This also means that even if someone has managed to get a copy of your conversations, they still won't be able to decipher it unless they can successfully crack the password. Another good thing about this app is that doesn't keep the ciphered texts into its server. Its server will only store the encrypted messages for ten seconds. After that, the ciphered text becomes irretrievable.
Given the above said security precautions, the ChatCrypt web app appears to be a dependable choice for users who need to chat online regarding some very confidential information. It's just that it's been designed in a very simple way that it cannot even format or resize the text and it also doesn't have the usual chat emoticons. Oh well, one cannot easily get the best of both worlds.
Conclusion and download link
ChatCrypt is provides a secure way to chat with other people online. Don't treat it as 100% secure because we all know nothing is 100% secure, but ChatCrypt does provide more protections than other chat platforms. After all, AES-256 is much better than not taking any precaution at all. So if ever you need a secure chat app to carry out your secret mission, I highly recommend that you use this web app.
Price: Free

Version reviewed: N/A

Requires: Works on all modern web browsers (Chrome, Firefox, Opera, Internet Explorer, Safari, etc.) on all desktop operating systems including Windows, Mac OS X, Linux, etc.

Related Posts