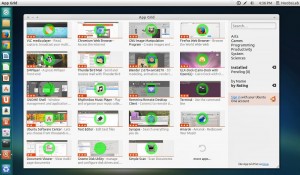 Love Ubuntu but not a huge fan of the default Ubuntu Software Center? You're in luck! This guide will teach you exactly how to install App Grid; a lightweight alternative. Let's get started!
Before We Begin
App Grid is an alternative to the Ubuntu Software Center.
This guide is accomplished with terminal commands. Open a terminal by opening the Unity dash and searching for 'terminal'.
How To Install App Grid on Ubuntu
To install App Grid, we'll need to add a PPA to Ubuntu. A PPA is a server that holds software. Enable the PPA by entering the command below in the terminal window.
sudo add-apt-repository ppa:appgrid/stable
Once the PPA has been installed, Ubuntu's software sources need to be updated. Update your software sources by entering the command below in the terminal window.
sudo apt-get update
After you've updated Ubuntu's software sources, App Grid can finally be installed. Install App Grid by entering the command below into the terminal.
sudo apt-get install appgrid
Once you've finished entering the commands, close the terminal window.
To launch App Grid simply open the Unity dash and search for App Grid.
Done!
Conclusion
With this guide, you've learned about a great alternative to the Ubuntu software center. Enjoy!
Related Posts