I'm of mind that virus software for Android is quite useless at this point in time. Some of you will disagree. After all, why would I say such a thing? While technically it is possible for a device to contract something harmful -no device is totally immune- with Android it's a bit more complicated than that. As of now, a malicious piece of software cannot just find its way onto your device of its own accord. Instead, users actually have to install a malicious app (usually from a third party) or activate malicious software. Take that for what you will. This topic alone could cause a debate that lasts for days. That being said, how do you know if you've installed a potentially harmful app, or at least one that masks truly devious intentions? VirusTotal scans through installed apps using 40 separate antivirus tools to find potentially harmful software. It is designed to work just like the native site.
What is it and what does it do
Main Functionality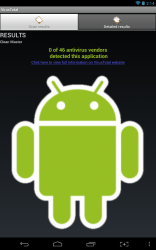 VirusTotal for Android works just like the native website. It scans files and software using a whole slew of antivirus engines. It's no secret that some antivirus software will pick up potentially harmful items, while others will completely overlook the same content. That being said, there's a much higher chance that you will encounter a false positive with so many tools in use. It's relevant to note that the Android app just scans all installed apps when it's launched, and there's no option to scan individual files or items.
Pros
Scans installed user and system apps and identifies potentially harmful items
Works just like the web portal, uses more than 40 separate antivirus engines to scan apps
Works even on very old Android devices (running OS version 1.6 or higher)
Cons
No realtime protection feature offered, only works after the fact
Will return lots of false positives, especially considering how many apps use advertisements (which isn't really an issue with this app itself but rather an issue with the antivirus engines that are used)
There are a lot of apps that aren't available in the database yet, to scan them yourself you will need an active VirusTotal account
Discussion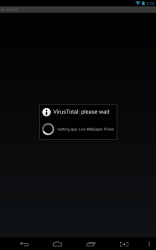 The first time you open the application it will scan all of your installed apps, and the process does take a little while. As soon as the scan has completed, you'll be brought to a list of the scan results. Every app in the list will have a corresponding icon. A green android means the app is safe and passed all virus scanners, while a red android means that there were complications or potential flags. Additionally, a blue question mark means that the application is not yet in the database.
The application itself splits apps into two different categories: user apps and system apps. The terms are pretty straightforward, but I'll elaborate for good measure. User apps are those installed by the owner or device users, while system apps are those that came pre-installed on the device. A lot of system apps are vital to the Android OS.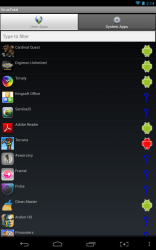 When it comes to apps that are not currently in the database, the ones that display a question mark, you can scan them. Unfortunately, you cannot activate the scanner unless you have an account with VirusTotal.
You can tap on an item in the list at any time to view more detailed results. The additional information is split into two tabs: scan results and detailed results. The scan results simply display the corresponding icon, only much larger along with the VirusTotal rating. The detailed results just displays a list of all the antivirus engines used to scan the package, and whether or not they turned up anything harmful.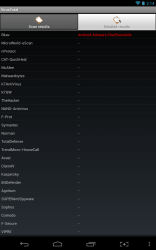 That's the gist of the app, as there's nothing else offered. This is not a realtime protection app like most antivirus suites instead this app only works to scan for malicious software already on the device. Because of that, if you do happen to have something harmful on your device then the damage may have already been done.
Now I'm certainly no expert, but I only had one application installed on my device that was actually flagged. A large majority of my apps were listed as not in the database. The single app that was flag, was a game called Terraria- I'm sure some of you might have heard of it. It's fairly new to Android, although it has been available on other platforms for a while. It was flagged because it contained an advertising platform, which is quite common on Android. More specifically, "Bkav" flagged "Android Adsware CharBoostAds". What am I getting at? You're likely going to experience a lot of that when you scan your own device, take it with a grain of salt.
Conclusion and download link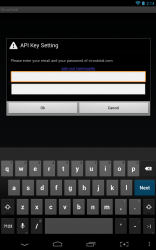 VirusTotal for Android is not a realtime protection suite like traditional antivirus software. Instead, it scans all of the apps installed on your device and cross checks them with an online database. To check for malicious activity the service uses about 40 different antivirus engines. If you've ever used the main VirusTotal web portal before then you're getting the same thing only in a mobile form. If an app is already found in VirusTotal's database, then you are returned the results. If an app isn't its the database, you can scan the app yourself at any time with VirusTotal, but to do so you will need an active account with the service.
Overall, if you're looking for a way to find potentially harmful apps on your device(s), check out VirusTotal for Android.
Price: Free
Version reviewed: 1.0
Requires: Android 1.6 and up
Download size: 492KB
VirusTotal for Android on Play Store
Related Posts