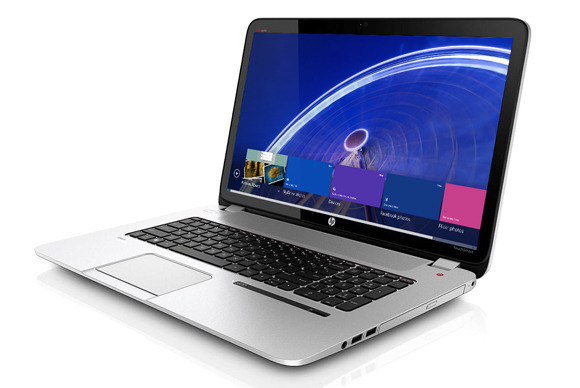 Remember that thing called Leap Motion? If not, it's a motion detector controller that does not require a camera. It's pretty neat, though not Kinect neat, so you might want to keep your expectations on the lowdown fella'. OK, so on a serious note, HP is the first PC manufacturer to incorporate Leap Motion in ones of its laptops, and it doesn't look half bad.
HP managed to fit the Leap Motion controller tech in its Envy 17 via a little black strip that sits to the right of the touchpad. We already knew the Leap Motion hardware itself is quite small, but getting it to fit in a laptop is something else entirely, this is some advanced sorcery. Now, the motion controller thing in a laptop is cool despite being more of a gimmick than anything else. However, one major gripe we have here is the size of the HP Envy 17.
This thing is a massive 17-inches worth of screen real estate, so you won't be traveling with this bad boy too often. We would have preferred if HP sneaked the Leap Motion controller in a desktop instead of this beast, or even a smaller laptop. But hey, it's the first of its kind so don't feel too bad, just be patient and believe that a more sleeker machine with the tech built in will come along in the coming months or years.
Alright, so the price of the HP Envy 17 will begin at a cool $1050, and pre-orders should kick off on October 16, 2013. Mark that on your calendar ladies and gents, for gimmicky motion controls are here to stay.
[via PC World]
Related Posts