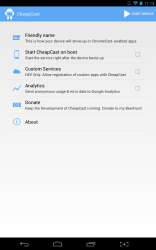 Google's Chromecast is a pretty neat device. It's a very small device that allows you to stream content from your Android devices right to your TV through HDMI. Demand for the device is remarkably high, which is understandable considering it's only about $35. Many providers are still having trouble with Chromecast stock, and it's difficult to find. That's okay, because CheapCast is an application that can turn any Android device into a makeshift ChromeCast. It's actually not a bad idea to use a device that you have lying around like an old smartphone.
What is it and what does it do
Main Functionality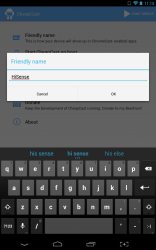 Ah, the beauty of Android- nothing is really impossible to implement. I mean, just the other day I reviewed an app that lets you wave your hand in front of your device to wake it up. It's no surprise then that someone developed CheapCast. Although it can turn any Android device into a Chromecast ready streamer, there are some limitations. You need to be able to connect the target device to the TV through HDMI, so your Android needs to have the related port. Furthermore, it uses a lot of battery power so you're better off leaving the streaming device tethered to a power supply.
Pros
Turn any Android device into a Chromecast
Easy and quick to setup, and the official Chromecast app can recognize the the device
Stream web and YouTube content to your TV, and you can control it remotely with the streaming device
Because content is streamed over the internet (and not Wi-Fi), you can continue to use the streaming device to browse the web, text, check email or play games
Adds a notification to the system tray, which allows you to stop and restart the service from anywhere on the receiever device
Cons
If you don't have a suitable device the setup would be very costly, HDMI enabled Android devices tend to be more expensive than a $35 Chromecast dongle
There are quite a few limitations:

Does not work with Netflix
The receiver device needs an HDMI port to connect to the TV
You need multiple devices and multiple apps: CheapCast for the receiving device and the official Chromecast app for the streaming device
The receiver will eat through battery, so it should be tethered to a power supply
Discussion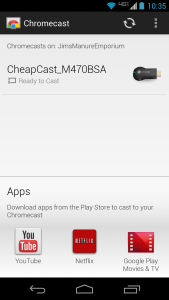 I mentioned the main limitations above, but you'll also need to install the Chromecast app on your main device. This is because CheapCast acts as the receiver. You will need multiple devices (like a smartphone and a tablet) and multiple apps installed in order to use this setup properly.
Once you have the official Chromecast app installed on the device you'd like to stream from, and CheapCast installed on the receiver you can jump right into the nitty gritty. Using CheapCast after it's installed is remarkably simple. All you have to do is tap the "start service" button in the top right corner to turn your receiver device into a streaming Chromecast clone. Then, you can start the official Chromecast app and allow it to search for devices. It should recognize the Cheapcast receiver fairly quickly. Once you pair the two devices that's it. You can start streaming content from your host device and it will be delivered to your receiver.
One of the coolest features is that the content is actually streaming from the internet between the two devices. That means you can do other things on your host phone while videos are playing. You could play games, check email or even browse the internet. If you want to pause videos, fast forward or interact in any way all you have to do is open the Chromecast app on the host device again.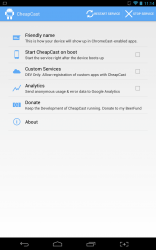 Because you're not actually streaming from device to device, the video quality is great, although you are limited by the receiver device itself. For example, if your receiving device only supports 720P output then that's the best you'll get. Old smartphones and tablets might have some trouble keeping a decent stream open, but it's really trial and error when it comes to seeing how a device will perform.
It's also worth noting that Cheapcast does not work with the Netflix app. The real Chromecast however, works quite well with it. Unfortunately, this is a trade-off for using a third party app. I'm not entirely sure if the support will be added in the future or if it can even be implemented at all- so just keep that in mind.
I'm sure the question is going to bubble to the surface at some point: if this doesn't stream Netflix, what is the point to using it? Couldn't I just hook a device to my TV through HDMI anyway? The main feature here is that you can control the receiver with another device. In other words, you can sit on the couch and control what content streams to your TV. There are plenty of other ways out there to achieve the same thing, so I'll let you decide if this setup is worth your time.
Conclusion and download link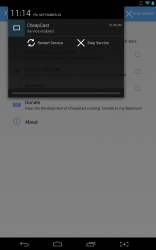 CheapCast is an alternative to people who don't want to or can't pay $35 to get a real Chromecast; it allows you to turn an old Android device into a Chromecast for streaming to your TV. If you don't have an old device sitting around then this setup is definitely not more frugal than a Chromecast itself — as an HDMI enabled Android device is much more expensive than a $35 Chromecast streaming dongle. In addition, CheapCast doesn't have the full functionality of ChomreCast because CheapCast cannot stream Netflix content, Play Movies, nor Chrome tabs — it only streams web and YouTube based content. That being said, if you really want to try out Chromecast but don't want to purchase the actual device, you can give this app a try. I do recommend actually purchasing Chromecast, though, for more functionality. It is only $35.
Price: Free
Version reviewed: 0.3.8-BETA
Requires: Android 2.2 and up
Download size: 1.6MB
Related Posts