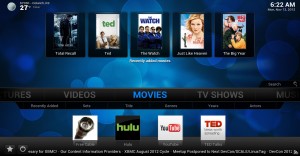 Wishing you had some media center software to start up when you plug your PC into your TV set? XBMC can help! XBMC is a fullscreen media center solution that is extremely easy to use. In time at all, you'll be navigating your way through your entire media collection elegantly. Let's get started!
Before We Begin
XBMC is fullscreen media center software
XBMC is already available in the Ubuntu software repositories, but enabling the XBMC PPA will enable you to get frequent updates at a faster rate. This means you'll get new features faster too.
This guide is accomplished by using terminal. Open a terminal by opening the Unity dash and searching for 'terminal'.
If you need help understanding how to use XBMC head over to the XMBC wiki.
Though this guide is specific to Ubuntu, XBMC can be installed on virtually any Linux distribution, Windows, Mac, Android and iOS. This guide works on all versions of Ubuntu.
How To Install Xbox Media Center (XBMC) On Ubuntu
In order for us to get the latest updates directly from XBMC, we need to enable their software repository. Do this by entering the command below in the terminal window.
sudo add-apt-repository ppa:team-xbmc/ppa
Once the software repository has been enabled, Ubuntu needs to be updated to reflect the changes we've made.
sudo apt-get update
After Ubuntu's software sources have been updated, XBMC's dependencies need to be installed.
sudo apt-get install python-software-properties pkg-config software-properties-common
After installing some needed dependencies for XBMC we can finally install XMBC itself.
sudo apt-get install xbmc
Once XBMC has been installed, it can be run by  searching 'XBMC' in the Unity dash, or by entering XBMC in the terminal. XBMC also has it's own dedicated session. Simply log out of your current Desktop environment, click the Ubuntu logo on the right. It will bring you to a list of Desktop environments. Select XBMC, enter your password and press the enter key.
Done!
Conclusion
With XBMC installed, you're now able to sort and watch your media in an elegant and easy way. Enjoy!
Related Posts