One of the maintenance tasks I perform most on my computer is regular cleanup with a tool like CCleaner. Overall, it just keeps your system running smoothly and can even keep performance levels optimal. Really, it just involves simple things like deleting temporary internet files, cleaning out the recycle bin, dumping app cache files and more. Unfortunately, I don't run the entire process using automation software- when in fact I probably should. I generally handle everything manually. Auto Cleaner is a Windows application that will automatically clean such files on a specific interval.
What is it and what does it do
Main Functionality
Auto Cleaner is a system cleaning tool like any other with one exception — it's designed to run on an automated schedule. By default, the cleanup process will run every 24 hours but you can customize the interval entirely if you want it to happen more often. Furthermore, it's portable so you don't need to install anything in order to use it.
Pros
Automates the cleaning process by removing temporary files on a schedule
Set to clean every 24 hours by default, but you can customize the hourly based interval
Perform an instant clean through the system tray icon
It's portable and can be run from any directory
Very minimal footprint both in size and RAM usage (5MB)
Cons
To edit the schedule you need to alter an ini file, which is only created after you start the app one time
It would be nice to see a simple registry cleaner, then again many folks would be leary about running a registry cleaner on a fully automated schedule
Is not as comprehensive at system cleaning as rivals are, like CCleaner. In fact, Auto Cleaner is really only good for clearing temp files.
Discussion
Let's get this out of the way first thing. Auto Cleaner is not a comprehensive system cleaning tool by any means. It's not meant to replace third party tools in any way, and even though I'm going to keep using it after this review I will still certainly use tools like CCleaner every now and then. The important thing to remember here is that this tool is automated, boosting the overall convenience of it.
This app is portable, but it does not come in a compressed archive. Instead, you download a single executable which can be stored and run from any directory including that of an external drive.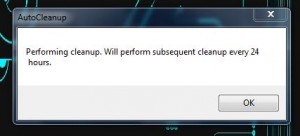 The very first time you run the application it will display a popup alerting you that a cleanup is scheduled to happen every 24 hours. Once you dismiss the popup, the app will go quiet. It runs in the background and can be called upon from the system tray.
If you right click on the system tray icon, you are presented with a context menu and several options. You can start a cleanup, disable balloon notifications (which usually display after an action has completed), and enable the auto-start feature that runs the application when Windows boots.
Unfortunately, if you want to change the cleanup interval you will have to edit the ini file associated with the app. Since the ini file is only created after the app has been started, you will need to do so at least once. The file is created in the same directory where the executable is stored. You can shut it down immediately, and I recommend you do so if you plan on editing the ini.
There's only a single line included in the ini file, which allows you to change how often the cleanup process runs. You need to enter the number in hours if you do want to change it. You can simply enter a whole number like "7" for every seven hours.
For reference, Auto Cleaner uses just over 5MB of RAM while running, which is pretty light.
Conclusion and download link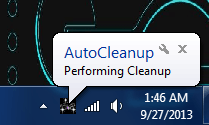 Auto Cleaner is a very simple application that automates the system cleaning process. It's both portable and lightweight, and you can easily run it directly from a removable flash drive. By default, it will clean out temp files every 24 hours, but you can set it to a custom hourly interval if you so desire. Once started, it runs quietly in the background and sits down in the system tray. A notification bubble will appear anytime the app does something, but you can disable the feature if it annoys you. This is not a comprehensive tool and you should still use it in combination with more advanced cleaners. That being said, if you want to make system optimization a little easier on yourself this is certainly a viable option.
Also be sure to read dotTech's review on best free system cleaning tools for Windows.
Price: Free
Version reviewed: 1.0
Supported OS: Windows 8/7/Vista/XP (32 and 64 bit)
Download size: 43.5KB
VirusTotal malware scan results: 0/48
Is it portable? Yes
Related Posts