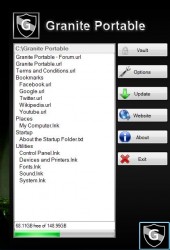 I've covered quite a few apps that offer file and sensitive data protection through a personalized vault on your computer. Generally, these types of apps add a hidden folder which can be used to store personal files that you don't want others to see. Most of the apps deal with protecting files on desktop or your local hard drive, but what about USB drives? What if you want to explicitly hide files stored on an external flash drive using the same type of hidden vault method. Granite Portable is a Windows application that generates secure 2-layer protection for portable drive content. More specifically, it creates the same kind of encrypted vault or directory that I mentioned above except on an external USB drive.
What is it and what does it do
Main Functionality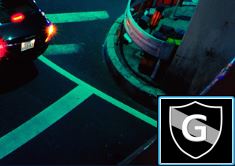 Granite Portable is a Windows application that allows you to produce an encrypted vault directly on any external USB drive. As the name implies, the app is also portable which means you don't need to install anything in order to use it. The app actually does create a directory on the storage drive labeled "vault" which is hidden behind a standard username and password system.
Pros
Generates an encrypted storage vault for sensitive data and content
Allows you to create a custom username and password to login
You can open the vault in Windows Explorer once Granite Portable is logged in and running
You can customize the theme of the main interface in options
It adds a small icon which hovers above the system tray, clicking on it once will open the main UI and clicking on it again will dismiss the window

The main UI and app icon stay on top of all other windows
Cons
Requires the Microsoft .NET Framework version 3.5
Only supports USB drives formatted with the NTFS file system
The vault can be easily unlocked through the command prompt by resourceful users, then again this is true of most similar apps
Discussion
Since Granite Portable is a portable application it will be available as a compressed archive. You need to extract the contents using a tool like WinZIP, WinRAR or 7ZIP. Once extracted you can store the related files directly on your USB drive, or you can leave them in a local directory. Wherever you leave the extracted folder is where your encrypted vault will be. So, for example if you choose to leave the extracted archive in a local directory, that is where you will be able to store your protected files. You'll need to move it to a USB drive if that's where you'd like to keep sensitive data protected.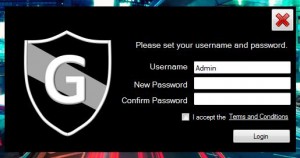 The very first time you run the application you will be prompted to enter a username and a corresponding password. After accepting the terms and conditions and logging in, the Granite Portable icon will appear just above the system tray. Clicking on it opens up the application's main interface.
At the bottom of the window, the app displays available storage space. This obviously gives you some idea of how much content you can store on your drive. It's not exactly necessary when dealing with a local directory, but when using a portable USB drive (especially of smaller sizes) the indicator can come in handy.
You can save pretty much any type of file in the vault you can imagine. To give you a few ideas on how to use the app, it comes preconfigured with data for bookmarks, website links, important directory shortcuts and more.
You can call upon the vault one of two ways, both of which involve managing content through Windows Explorer. You can either open the vault directory yourself while Granite Portable is running and logged in, or you can click on the 'vault' button in the main interface. Clicking on the button will automatically bring up the proper directory in a Windows Explorer menu. This allows you to just drag and drop, or copy data over to the appropriate location.
There are other dialogue buttons in the main window for updating the app, visiting the official website, and browsing an about window but they're not integral to regular use. The options menu is pretty limited too, providing options to manage your login info, alter the appearance of Granite, prevent the app from creating files on the root of the flash drive, and uninstalling.
Clicking on the icon a second time will dismiss the main interface, and closing the app entirely will lock up the vault. Of course, even though the vault is protected pretty well a resourceful user would be able to unlock it using the command prompt quite easily. It is because of that, I can only recommend using Granite Portable to hide content and sensitive data from other casual users. It does certainly provide an extra layer of protection and security for your portable content, so it's better than nothing all around. While the vault is locked, you cannot browse it's contents in Windows Explorer.
For reference, Granite Portable uses about 17MB of RAM while running.
Conclusion and download link
Granite Portable is a Windows application that allows you to hide content and sensitive data in an encrypted vault. Because the application is portable, you can use it even on a USB drive (which is how it's actually meant to be used). During first run, you designate a username and password that can be used to login to your vault while using the app. After content has been stored, users cannot access it through Windows Explorer like normal without your password. However, there is one major flaw in this program: resourceful users will easily be able to unlock the vault through a command prompt window. That leads me to conclude you shouldn't use this program for high-stake situations; this program is only for hiding data from casual users.
If you want a more reliable encryption and secure program for protecting your files on a USB drive, then read dotTech's review on best free encryption programs for Windows. More specifically, be sure to check out SafeHouse Explorer, an encryption program that works well on USB drives.
Price: Free
Version reviewed: 1.2.6.0
Supported OS: Windows 8/7/Vista/XP
Download size: 1.21MB (compressed), 2.31MB (unzipped)
VirusTotal malware scan results: 0/48
Is it portable? Yes
Related Posts