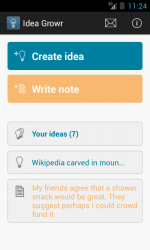 A good idea often leads to something productive and if properly cultivated, could create an even bigger impact not just to yourself but also to those who could benefit from your work. So it is very important that you keep track of your ideas no matter how silly you think they are. In this case, a good and simple app like Idea Growr could definitely help you preserve your idea by simply writing it down on your tablet or smartphone.
What Is It and What Does It Do
Main Functionality
When an idea pops into my head, I usually write it down on my notebook or smartphone. The problem is, I often get too lazy to flip through the pages of my notebook so that precious idea (that could have turned into something marvellous) eventually turns into something that's long been forgotten. This is why I decided to try out this free app called Idea Growr. This app features a simple and neat interface wherein you can easily write down and keep track of your ideas and thoughts.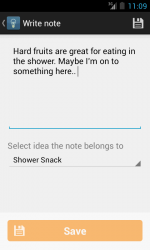 So as soon as you get an interesting idea, just open the app, write down your idea and don't forget to describe it in the best way that you can. After that, you're free to do whatever you want. You can even attach some notes into your ideas and if ever you feel like your idea is going out of track, there are certain question sets that you can use to let your ideas grow.
Pros
Simple and very straightforward, neat UI and easy to use
By default, this app will sort your ideas according to the date that they were originally created but you can also sort them out in alphabetical order. You can also prioritize the ideas that you've recently updated.
You can share your ideas separately and you can also send them in bulk – you can send your ideas via Bluetooth, Gmail, SMS, IM and even via barcode
You can add and attach multiple notes to your ideas
Basic question sets – This app will let you choose from its available question sets that would usually include questions that are related to personal, business, society and realization
Special question sets – These questions sets are intended for those who are planning to create and develop their own apps, movies and start-up business
Once you've properly evaluated your idea, you can immediately switch its status from "just an idea" into something "serious"
Cons
You cannot hide or delete the question sets that are totally unrelated to your ideas and notes
This app won't automatically create a backup for your ideas and notes – If you want to keep a backup of your files, you need to send a copy of your ideas via Bluetooth or Gmail
You cannot highlight your most favoured ideas so that they will always stay on top of the app's home screen
No search tool – If you already have tons of ideas in your list, it would be difficult to search for a particular idea especially if it's already been pushed to the bottommost part of your list
Discussion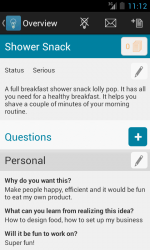 What differentiates Idea Growr from those typical notepad apps is that focuses solely on concepts and ideas. This way, your ideas won't get mixed-up with the things that you're supposed to do. In other words, you have your own custom-made list that is specifically designed to cater to your kinky concepts and ingenious plans. Whatever your idea is, you are free to write it down and once you've thought of something that could actually turn your idea into reality, then that's the time for you take your idea or concept to the next level.
What's great about this app is that it's downright simple. It doesn't complicate things. Once you're done writing down your ideas, just leave it as it is and then come back when you already have something that could make your idea more feasible. If you end up rejecting your own idea, just delete it and think of something else. You can also use notes to supplement your ideas and if you want to ask the opinion of others, you can share your ideas to your friends or colleagues via IM or SMS.
That's not all. This app also features a set of questions that are specifically patterned to help you evaluate and analyze the usefulness and importance of your ideas. So for example, if you are planning to start a new business, you can answer the questions that are related to business. These questions will serve as your guide so that you won't get lost while you are still in the middle of conceptualizing your plans.
All in all, I could say that Idea Growr isn't something that you can just set aside. It has an important use and it can be very handy especially for people who are often faced with the challenge of coming up with a new concept or idea. It's ideal for artists, designers, writers, developers, chefs, party planners and event organizers. It may have its downsides such as it lack of support for automatic data backup but it can still be improved in many ways provided that it gets the right support from its developers.
Conclusion and Download Link
I personally like the fact that this app focuses on cultivating ideas. So instead of tossing your ideas away, why don't you just keep it? After all, you won't lose anything from keeping it especially now that you can track it down using Idea Growr. This app isn't perfect but I would like to commend it for its simplicity. It's simple yet very reliable. Check it out.
Price: Free
Version reviewed: 1.30
Requires: Android 2.1 and up
Download size: 1.6MB
Related Posts