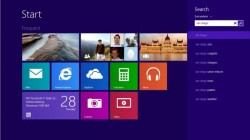 Not a fan of Microsoft's Bing search engine? This guide will teach you exactly how you can regain a bit of privacy and deter a little annoyance by denying Bing access to the search terms you enter on your Windows 8.1 PC. Let's get started!
How To Disable Bing In The Windows 8.1 Modern Ui Search Bar
Press the Win button and the C at the same time on your keyboard to display the Windows Charms bar. Click on the settings charm.
Towards the bottom right of your screen you'll see the 'Change PC settings' option. Select it.
Navigate to the 'Search & Apps' section of the PC settings window.
Near the right hand side of your screen there will be an option to disable search results from Bing. Select the option to turn it off.
Done!
Bing can be re-enabled in the search bar by following this guide and changing the setting from off to on.
Conclusion
Bing is a satisfactory search engine, but it really is not for everyone. Luckily, Microsoft gives you the option to disable it's tight intergration within Windows 8.1. Enjoy!
[via howtogeek]
Related Posts