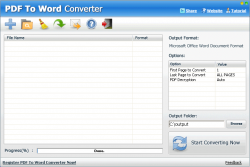 dotTech has a review on best free PDF to Word (DOC, RTF) converter for Windows. In that review we list an excellent program, UniPDF, for converting PDFs to DOCs/RTFs. If, however, you are unhappy with UniPDF, PDF To Word Converter is a program that wants your business. So is it worth it? Let's take a look.
WHAT IS IT AND WHAT DOES IT DO
Main Functionality
PDF To Word Converter is a program that allows you to convert PDFs to DOC format. It supports batch processing so you can convert multiple PDFs one after another easily.
For those that are wondering, PDF To Word Converter is by the same developer that made PDFZilla. In fact, PDF To Word Converter is simply the PDF -> DOC feature of PDFZilla available as a separate program.
Pros
Straightforward and easy to use
Converts PDFs to .DOC format
Users are allowed to convert whole PDFs or a select range of pages
Can convert encrypted PDFs (owner and user)
Converts fairly quickly
Supports batch processing
Supports drag + drop
Doesn't require users to have Microsoft Office/Word installed to do PDF to DOC conversions
Cons
Poor conversion/output quality
Uses text boxes for text in output DOC files
Overwrites existing files of the same name and same format in the output folder without prompt
Attempts to install directly into C:/ by default as opposed to C:/Program Files and wants to output files to C:/output by default instead of a more proper location such as My Documents
No option to add an entry in the right-click context menu in Windows Explorer (for quick conversions)
Supports PDF to DOC but not PDF to DOCX
Discussion
Using PDF To Word Converter is pretty easy and it has quite a good amount of PDF conversion features. However, a PDF converter is only as good as the conversions it can do; a PDF converter can have all the features in the world and could be the most easy-to-use program out there, but if it cannot convert properly, it is worth. So is PDF To Word Converter worthless? Eh…
As per my tests, conversion/output quality of PDF To Word Converter is fairly poor. See for yourself (all conversions were done at default settings):
As you can see, PDF to DOC is fairly poor:
Example2 and example3 in DOC are completely gibbersh.
Page one for example1 in DOC isn't too bad although most of the formatting is lost; however for pages two and three the graphs/graphics are not converted properly.
For example4, the images are not properly converted in DOC and the text is very poorly converted, with little to no spacing between words.
Aside from performance, there are other aspects of PDF To Word Converter that I find lacking/can be improved:
Text boxes are used for the text when converting to DOC format. This is a terrible way to convert because editing files with text in text boxes – as opposed to normal non-text box text – is very cumbersome.
PDF To Word Converter only allows for PDF -> .DOC conversions. It does not allow for PDF -> .DOCX conversions. Now I understand that in 99% of situations, .DOC will work just as well as .DOCX and in fact .DOC is desirable over .DOCX by many. However, in that other 1% of situations, users would have to manually re-save .DOC as .DOCX and that is just annoying and potentially waste a lot of time (depending on how many PDFs were converted).
Currently PDF To Word Converter provides users with no option to add an entry in the right-click context menu in Windows Explorer for PDF right-click menus. While this isn't a deal-breaker by anyway, it would be very handy if the developer gave users the option to add this entry to allow for quick conversions.
When installing PDF To Word Converter, the default installation directly is set to C:\PDF To Word Converter. In other words, PDF To Word Converter tries to install directly into the C:\ directory, which is very poor convention – it should be installing into C:\Program Files. So, be sure to change that.
PDF To Word Converter automatically overwrites existing images in the output folder with the same name and same format as the output files. Be careful when outputting images otherwise you may accidentally overwrite a previous conversion.
CONCLUSION AND DOWNLOAD LINK
If this program was free I would have a difficult time recommending it. However, this program is not free — it is a shareware program. As a shareware program, there is no way I can ethically tell you to go and spend your hard earned cash on PDF To Word Converter. Why? Simply because, generally speaking, the program has poor conversion quality. If you want to throw away $30, then grab PDF To Word Converter. If you would rather save your money and use a program that does excellent conversions, check out UniPDF.
UniPDF is an excellent freeware PDF to DOC, RTF, TXT, HTML, JPG, BMP, TIF, PNG, GIF, PCX, and TGA converter. Read dotTech's review on best free PDF to Word converter for Windows to learn more.
Price: $29.95

Version reviewed: 3.0
Supported OS: Windows 2000, XP, Vista, Windows 7, Windows 8

Download size: 2.2MB

VirusTotal malware scan results: 0/48

Is it portable? No
PDF To Word Converter homepage
Related Posts