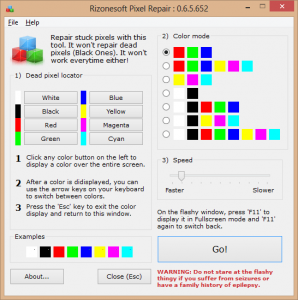 Defective pixels – I fear the idea that one day I'll switch my monitor or T.V screen on to find a singular pixel misbehaving. I can handle a set of pixels not working but just one would probably send my OCD on overdrive. Sometimes, I like a lot of people find myself paranoid about the colouration or discolouration of my PC screen. RizoneSoft Pixel Repair, if nothing else, helps abate some of those fears.
WHAT IS IT AND WHAT DOES IT DO
Main Functionality 
With CRT screens practically becoming obsolete, globally more consumers use LED and LCD screen monitors with their computers. It is common for a display to be manufactured that has a number of sub-pixel defects depending on the class of the monitor. The cheaper the monitor or screen, the less tests were done on it and the more sub-pixel defects it most likely comes with. Not all pixel defects are hardware related and some of these can be tracked and repaired using the right software. RizoneSoft Pixel Repair aims at tracking and repairing stuck and dead pixels.  
pros
Simple and easy to use
A great number of options to use for stuck/dead pixel detection and fix
Lightweight
Portable
Cons
Name is a little misleading. It can detect both stuck and dead pixels, but it can only fix stuck pixels — it won't fix dead pixels. And it may not always fix stuck pixels, either.
Only has one (seizure inducing) tool to fix stuck pixels
Discussion 
This app has no installer. If you download it from which ever source you choose, it will download as 1,93 MB zip. The contents of the extracted folder are a readme document which contains a section on what the software does, how to use it and a license. The folder also contains the application as an executable and a 7 zip file that contains a number of videos.
When you open the tool up, underneath the file menu item, you'll find two options – 'iPhone and other devices' and 'Exit'. At first, I imagined and assumed that clicking on the 'iPhone and other devices' would actually create executables or setup files for those devices but all it does is run the 7zip file which contains screen pixel repair videos. What all these videos seem to do is flash some colours on the screen in the same way the main tool does when you click on the 'GO!' button. I was a little disappointed to say the least.
The first thing on top of the UI, right under the toolbar is the application/Rizonesoft logo along with what the software does and a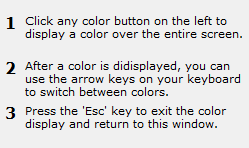 disclaimer informing the user that it does not repair dead pixels and it doesn't work every time either. The user interface is set out like a list of steps or procedures. It wasn't right-away intuitive until I actually focused. Step 1 is the dead pixel locator. Underneath that you'll find a list of buttons, when clicked will display a colour on full screen. From the different colours you choose, you'll be able to track a discoloured spot. The problem I have with this setup isthe buttons come first before the explanation. I played around with the buttons and figured out what was what before I actually realized that there was some help on how to operate the locater underneath, along with some examples.  Step 2 is where you select which colours you want flashed to try to repair the stuck pixel, 3 is where you select the speed of the colours flashed and underneath that you'll find the go button that opens a tiny colour flashing window that can be expanded to full screen by pressing F11. There's some epilepsy warning text under the button which is also linked to the Wikipedia page on epilepsy.
Conclusion And Download Link
Rizonesoft Pixel Repair attempts to fix the problem of stuck and dead pixels. In that regard it does OK, seeing as it can't fix dead pixels but can fix stuck pixels. Plus, the program is admittedly fun to use. The program is easy to use but sometimes the stuck pixel fixer portion of the tool seems more apt to use to test if you suffer from epileptic seizures (the hard way) rather than fix anything. Still a great tool that may find use from any user with an LCD or LED screen.
Price: Free
Version reviewed: 0.6.5.652
Supported OS: Windows XP, Vista, 7 and 8
Download size: 1,93MB
VirusTotal malware scan results: 0/46 
Is it portable? Yes
Download Rizonesoft Pixel Repair | Download Rizonesoft Pixel Repair from Softpedia
Related Posts